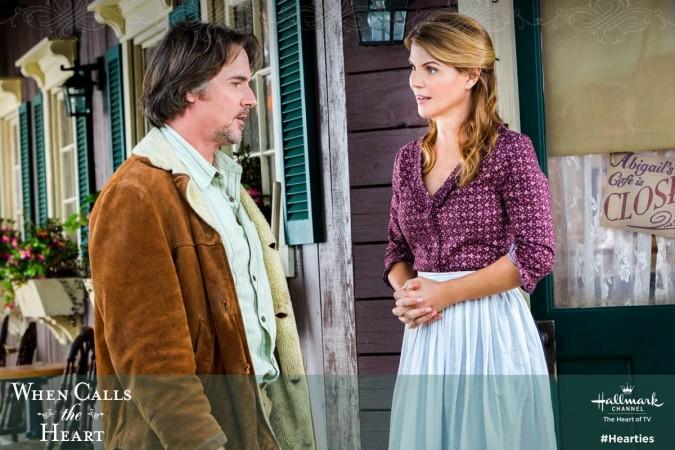 The latest instalment of "When Calls the Heart" will depict the romance between Abigail Stanton (Lori Loughlin) and Frank Hogan (Mark Humphrey). So far, their relationship has been fraught with several problems and while the townsfolk accept their courtship, Abigail's ward, Cody, doesn't.
[Spoiler Alert]
In Season 3 Episode 4 titled "Heart of a Hero," Abigail's most trusted friend, Elizabeth Thatcher (Erin Krakow), motivates her to get excited about her date with Frank. Although the single mother seems reserved about her feelings for the pastor, Elizabeth reminds her that she should make an effort to look good.
At this juncture, Abigail's son Cody enters the scene. In the promo for Episode 4, he looks desolate at the thought of being alone at home. He doesn't respond to Elizabeth's overtures, and states that he would rather spend time with Abigail.
The café owner then tries to make him happy by saying that she will bake a pie for dessert. Cody merely gives a meek smile and walks away.
Abigail looks worried and tells her friend Elizabeth that she's never seen him so upset. Is Cody fearful of Frank? Why is he upset about Abigail's date with the pastor?
Season 3 Episode 4's synopsis released on TV Guide reads:
Abigail begins a romance with Frank as the townsfolk start to accept his redemption, but soon the residents of Hope Valley face a new threat when a gang of outlaws arrive.
"When Calls the Heart" Season 3 Episode 4 airs on Sunday, March 6, at 9 p.m. on Hallmark channel. You can live-stream the episode via Hallmark's website.