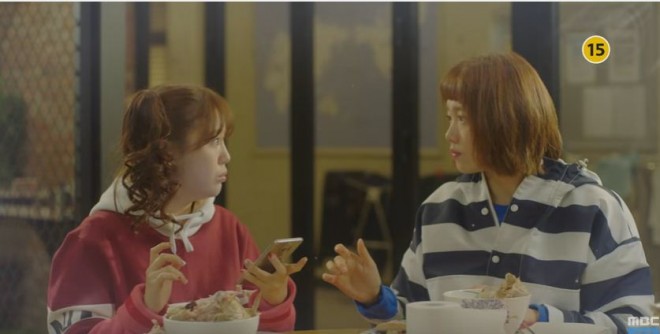 Weightlifting Fairy Kim Bok-Joo will return with episode 6 this Thursday, December 1, at 10pm KST on MBC. The sequel will continue to feature the various challenges faced by Jung Joon-hyung and his childhood friend during their quest for true love.
In episode 5, the weightlifter managed to convince the swimmer to keep her feelings for the obesity doctor Jung Jae-yi a secret from her close friends, Jung Jae-yi and Lee Sun-ok. But they were sceptical about her relationship with the childhood friend.
The trailer for the sixth episode hints at troubled moments for the female lead. It begins by showing Lee Jae-yoon's character dropping her to the bus stop, wherein his younger brother waits for her. Although Nam Joo-hyuk's character informs her that his brother doesn't like girls, she tells him that guys don't like female weightlifters.
In an effort of comfort his friend, Jung Joon-hyung tells her, "What's wrong with the weightlifters? I think they are great." He even decides to meet her father Kim Chang-gul and uncle Dae-ho, but they become sceptical about the two and secretly observe them.
The promo then shows Coach Choi Sung-eun informing Lee Sung-kyung's character about her special class to gain some weight and encourages her to eat more. The video ends by showing Jo Hye-jung's character finding out about her friend's appointment with an obesity doctor.
Will Jung Nan-hee betray her friend and expose her secrets to the rest of the team? Click here to watch Weightlifting Fairy Kim Bok-Joo online via live streaming at 10pm Korean time. Episode 6 will also be available online here for K-drama fans across the globe.
Watch the trailer for the new episode of Korean mini-series below: