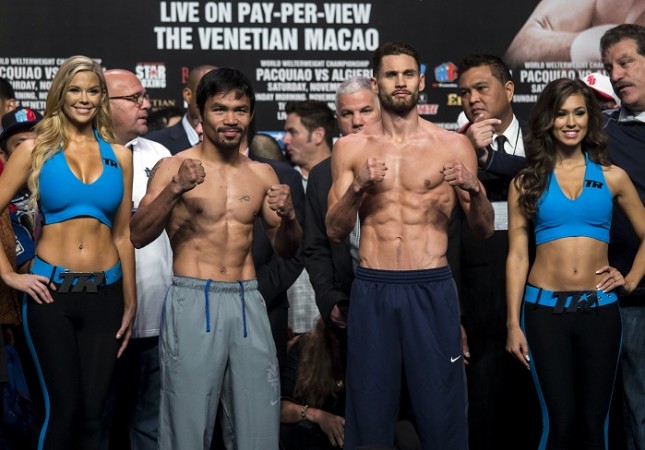 Many believe this fight in Macau between Manny Pacquiao and Chris Algieri for the WBO World Welterweight title is just another step for the Filipino legend towards that humongous fight against Floyd Mayweather Jr.
Indeed, much of the talk leading up to this has been about Pacquiao vs Mayweather and whether it will ever happen. However, Pacquiao will know the perils that lie in underestimating his opponent, an opponent quite capable of pulling off a major upset, especially if the multiple weight champion is caught off his guard.
"Algieri has already shown his toughness so I expect him to be there right till the end," said Amir Khan in his column for the Telegraph. "I was impressed with how Algieri beat Ruslan Provodnikov in his last fight, it was a very impressive performance.
"He showed a lot of guts and skill in that fight but someone like Manny is a totally different proposition -- it is another level. He definitely showed he has a big heart against Provodnikov and that he can weather the storm if need be -- so he can draw on that when he gets in the ring with Pacquiao."
The weigh-in on Saturday in Macau was a little eventful, with Algieri coming in a tad overweight at 144.2 pounds when the limit was 144. With two hours to go and pull down that weight, Algieri returned in a little over an hour to make the weight at 143.6.
There was no such drama for Pacquiao, of course, with the defending champ, returning to the ring after his mightily impressive win over Timothy Bradley in April, tipping the scales at 143.8.
While Algieri is expected to spring in a surprise or two against Pacquiao, Khan does not believe it will be enough to stop the Filipino great, despite the American having more size and possibly power.
"Manny Pacquiao will be too much for Algieri in their welterweight title fight in Macau," added Khan in his column. "The Filipino's speed and movement will help beat someone like Algieri, who is the bigger man and can box a bit.
"But we have seen Manny in the past beat bigger guys like Antonio Margarito, so I do not think the size difference will be a factor and I think Algieri's style is made for Manny. I expect Manny to look impressive and beat Algieri over the 12-round distance."
The undercard fights, before the big Pacquiao vs Algieri bout will see featherweight champ Vasyl Lomachenko take on challenger Chonlatarn Piriyapinyo of Thailand.
American Jessie Vargas will face Antonio DeMarco of Mexico, while Zou Shiming will look to top Kwanpichit Onesongchaigym.
Where to Watch Live
Manny Pacquiao vs Chris Algieri is scheduled to start on Sunday morning at around 12.30 pm Macau time (10 am IST, 11.30 pm ET (Saturday night), 4.30 am GMT) with live coverage in the USA on HBO. Viewers in the USA can live stream the fight online on HBO Boxing or Top Rank TV.
UK viewers can catch the match on Box Nation or Box Nation Online or Livesport. Australia viewers can watch the boxing bout via live streaming online on Mainevent.