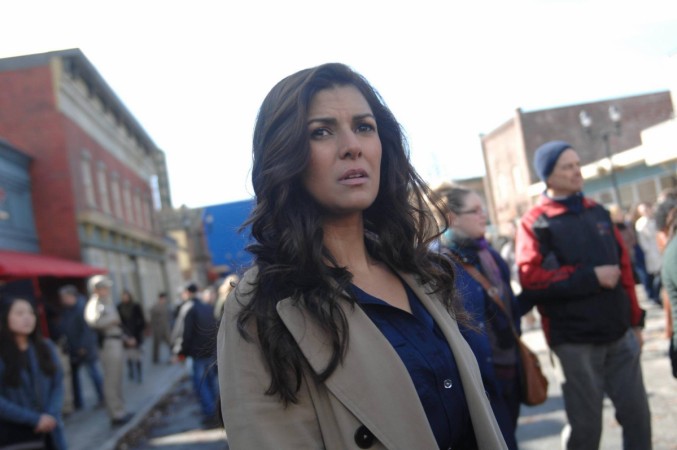 The history of Wayward Pines is about to be revealed. In the upcoming instalment of the TV series, Rebecca will finally talk about her connection with the Idaho town. However, her confession will create more distress in her marriage with Theo (Jason Patric). This will be the crux of Season 2 episode 5 titled "Sound the Alarm."
Until now, fans of the show have learnt very little about how Wayward Pines was created and the people behind its birth. But this truth will be revealed when the next episode of the TV series airs. In Season 2 episode 5, Rebecca (Nimrit Kaur) will tell Theo that she knew Pilcher long before he built the town. She will inform the surgeon that she is the architect behind this idyllic town.
In response, Theo will be dumbfounded, unable to trust her anymore. Perhaps he will ask what impelled his wife to be part of this experiment, and her answer will no doubt be revelatory. It remains to be seen if she, David and Pam have been privy to certain secrets that no one else knows.
Elsewhere in Season 2 episode 5, Megan (Hope Davis) will want to experiment on an Abby. She will inform Jason and Kerry of her decision when they bring in a female Abby. "There might be something anthropological. Maybe I can unearth something that can help us kill them," she says in the promo.
However, the presence of a lone Abby in Wayward Pines is ominous because as Adam Hassler (Tim Griffin) said in Season 2 episode 4, the mutant cannibalistic creatures send a scout before they attack with the rest of the herd.
Will there be another Abby attack? Will C.J. Mitchum find a way to save his people? Perhaps these questions will be addressed when the next episode gets aired.
"Wayward Pines" Season 2 episode 5 airs at 9 p.m. EST on Wednesday, June 25, on FOX. You can live-stream the episode via FOX NOW.