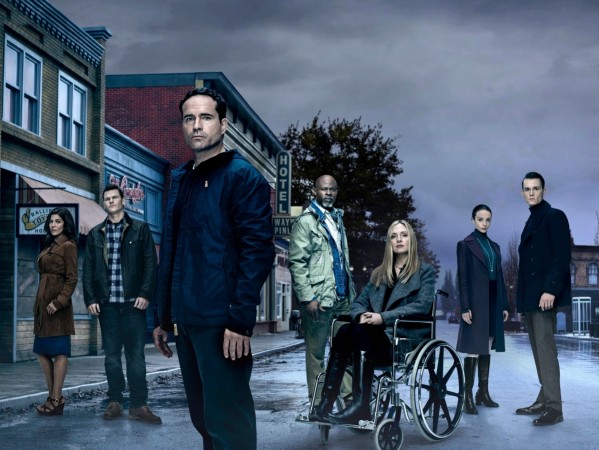 This week's instalment of "Wayward Pines" focuses on the history of the town and fans will perhaps finally learn some truths about this mysterious town. In Season 2 episode 3 titled "Once Upon a time in Wayward Pines," old residents will awaken from their cryo chambers, much to the shock of everyone.
The two biggest reveals of Season 2 episode 3 concern Nurse Pam's (Melissa Leo) return and the introduction of a new character, CJ Mitchum (Djimon Hounsou). The latter, touted as the town's historian with deep knowledge of secret passageways and the Abbies, will be relentless in his fight against the mutant cannibalistic creatures.
In the upcoming episode Michum will organise an operation against the Abbies, who somehow have control over the town's harvest. He will work closely with Jason Higgins' (Tom Stevens) men and launch an offensive along the fence. But there could be a number of complications and the fear of the unknown will be strong among Mitchum's men.
In the promo for the upcoming episode, Mitchum says they're going to use fire against the Abbies but he also makes it known that they are still unaware of how the mutant cannibalistic creatures would react. However, securing the harvest is of paramount importance and Mitchum says the future of the town depends on them.
As Mitchum continues to plan a violent operation against the Abbies, nurse Pam takes the opportunity to talk to Jason, the leader of the First Generation.
According to the summary (via TV Guide) for Season 2 episode 3, Jason will finally learn why he was chosen as the leader. The preview clip includes a scene in which Pam is seen placing a baby in a cryo chamber. This indicates that David Pilcher (Toby Jones) himself was responsible in choosing Jason as the future of Wayward Pines.
So what' special about the teenager? What truths will Pam reveal? Perhaps this will be explored when the next episode airs.
"Wayward Pines" Season 2 episode 3 airs at 9 p.m. EST on Wednesday, June 8 on FOX. You can live-stream the episode via FOX NOW.