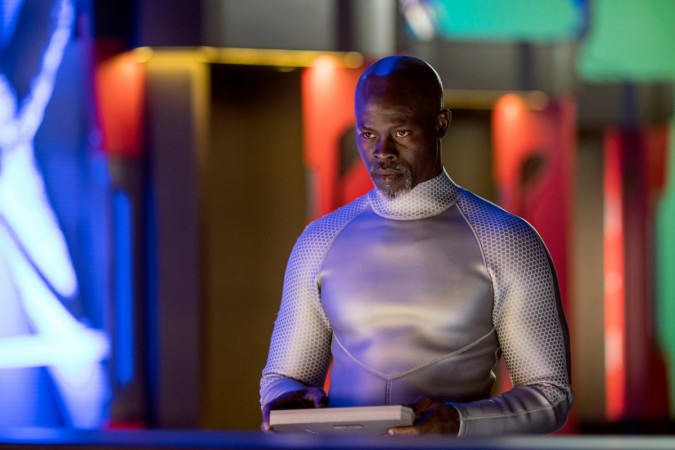 The last and final episode of "Wayward Pines" is upon us and if there's one question that everyone wants answered, it is this: how will the town protect itself against an army of Abbies who are blood-thirsty and ready to mark the end of humankind? It seems as if the town will have a plan in order to save its residents but it might not be fail-proof. Season 2 episode 10 of the M. Night Shyamalan TV series, adapted from Blake Crouch's trilogy, will explore the conflict between humans and the Abbies, and in an Orwellian twist, depict the tension between various influential residents of the Idaho Town.
In the upcoming instalment of "Wayward Pines," Theo Yedlin (Jason Patric) will assume the role of a leader in the event of Jason's death. The doctor will inform the town's residents of the attack and will disseminate crucial information about his evacuation plan.
Unfortunately for the doctor, it won't be just him who will call the shots. Wayward Pines' armed guards will make certain crucial decisions about who gets to stay safe and who is dispensable.
The promo for Season 2 episode 10 indicates that the children of the town will be carried off to the cryo chambers, while certain parents will be left behind. Of course, this will not sit well with the community and most of them will form a rebellion.
To be sure, the finale of "Wayward Pines" Season 2 will show just how chaotic and destructive the town's residents will get in the event of a life or death situation. This problem could test Theo's leadership skills and it seems likely that he will be quite powerless as another resident, C.J. Mitchum (Djimon Hounsou), will resort to violence in order to maintain some semblance of normalcy.
Hounsou's role in the Season 2 finale will be quite different and in the actor's words, this is one of the most satisfying perks of acting in a television series.
"I think TV offers you a platform in which you can – when you're doing a film, you're doing that film, and it's that theme that you're exploring in the film. But when you're doing TV, you explore so many different themes," he said.
It's unclear if C.J., Theo or Rebecca will remain alive after Season 2 episode 10 airs, but if there's one thing that's certain and quite obvious by now, it is that Pilcher's idea of a safe haven has been anything but.
"Wayward Pines" Season 2 episode 10 airs at 9 p.m. EST on Wednesday, July 27, on FOX. You can live-stream the episode via FOX NOW. The finale airs in India on Friday, July 29, at 10 p.m. IST on Star World Premiere HD.