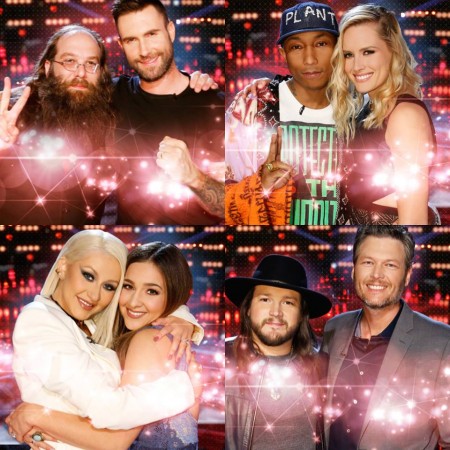 The final round of "The Voice US" Season is all set to take place on May 24 and it will see one contestant from each team performing against each other to hold the winner's title.
To watch the top eight's semi-final performance live online, CLICK HERE. Alternatively, the viewers can also watch episode 25 anytime on the NBC website.
Season 10's four finalists are Laith Al-Saadi (Team Adam Levine), Alisan Porter (Team Christina Aguilera), Hannah Huston (Team Pharrell Williams) and Adam Wakefield (Team Blake Shelton).
Laith made it through last week's Instant Save round where Mary Sarah and Bryan Bautista were sent home. He performed "White Room" by Cream. Next, Alisan sang her original song "Down That Road," which was applauded by the crowd.
Adam Wakefield teamed up with Coach Blake for a duet and performed "The Conversation" by Hank Williams Jr and Waylon Jennings. The next performance was delivered by Hannah who sang an amazing rendition of "Every Breath You Take."
Afterwards, Laith and Adam sang a medley of The Beatles' hits. Laith was on guitar, while Adam played the drums. Alisan teamed up with her coach Christina to perform "You've Got a Friend" next.
Like Alisan, Adam also performed one of his original songs after which Hannah and Pharrell sang his song "Brand New." The original version of the song features Justin Timberlake, but Adam undoubtedly did a brilliant job too.
According to Hollywood Life, Laith also went for his original song that he described as "wanting to hold on to that love you have for somebody you know you're not going to be with." Afterwards, Adam performed for a third time in the night, going for Vince Gill classic "When I Call Your Name."
Hannah, then, sang her song that she had co-written with Pharrell. The last performance of the night was by Alisan who sang "Somewhere" from West Side Story.