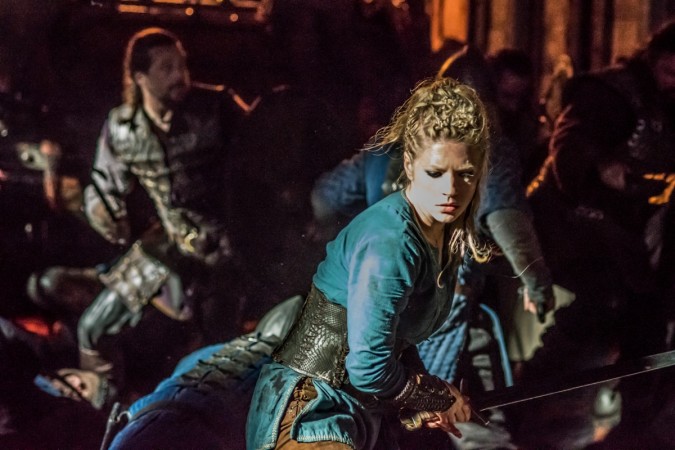 It's been a long wait for fans of historical drama "Vikings." However, the wait ends with the season 4 premiere, which depicts Ragnar Lothbrok's (Travis Fimmel) debilitating health, Rollo's life in Frankia and the scramble for power in Kattegat.
To be sure, the latest season of the "Vikings" picks up from where Season 3 ended. Episode 1 will depict a power struggle between Ragnar's many sons. In the midst of all this, Lagertha (Katheryn Winnick) will have an important role to play. A Carter Matt article argues: "While her former marriage to Ragnar Lothbrok certainly makes her a key part of this universe, it's far from the only reason for her notoriety."
In the premiere episode, Lagertha will try to clamp down on the uprisings that will ensue as a result of Ragnar's ill-health. She will also be tough on Queen Aslaug (Alyssa Sutherland), who will want to rule the kingdom.
Elsewhere in the episode, Rollo (Clive Standen) will have difficulties adjusting to a new place, a new wife and his new role as a husband. Lack of communication in his marriage to Princess Gisla (Morgane Polanski) will complicate the relationship, and it remains to be seen what he will do when he finds out his wife despises him for being a "heathen."
Season 4 Episode 1's synopsis released via TV Guide reads:
In the Season 4 premiere, a dangerously ill Ragnar returns to Kattegat, where his suspected death kicks off a scramble to succeed him. Meanwhile, Lagertha engages in a power struggle with her calculating former second-in-command Kalf; Rollo betrays his heritage and remains in Frankia; and Floki pays the price for his brutality against the Christian priest.
"Vikings" Season 4 Episode 1 airs Thursday, Feb.18 at 10 p.m. on History. You can live-stream the episode here.
Watch the trailer here: