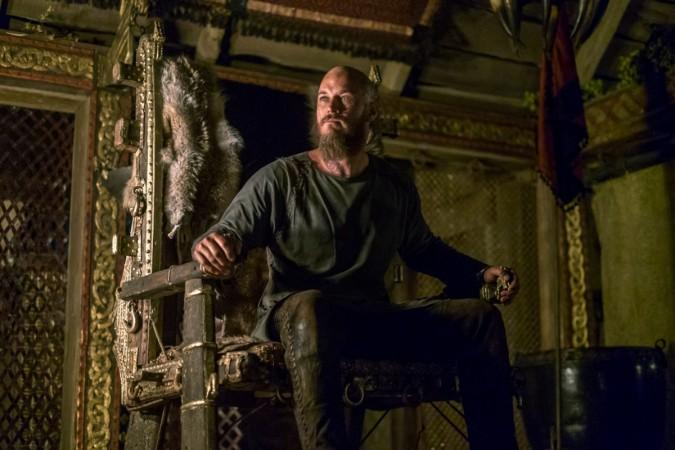 Since the premiere of Season 4, Ragnar Lothbrok (Travis Fimmel) has been sidelined, and he has been on the receiving end of his family's disdain. In "Vikings" Season 4 episode 6 titled "What Might Have Been," his family's treachery will be exposed when he raids Paris.
Fans of the show will remember that the new character, King Harald Finehair (Peter Franzen), promised to ally with Ragnar. The two even decided to travel to Frankia, Rollo's (Clive Standen) new home, and raid it. While this did excite the Norseman in episode 5, it remains to be seen if he will survive the war.
[Spoiler Alert]
The promo for the upcoming instalment, episode 6, indicates that Ragnar's decision to raid Paris may not end well. He will be met with a decisive enemy, his own brother Rollo. In the video clip, Princess Gisla's (Morgane Polanski) husband stands at the battle gates to fight Ragnar and stamp his allegiance to Frankia.
In the promo, Frankia's Emperor Charles tells Rollo not to return to his brother. He adds that Rollo needs to protect Paris, indicating that Ragnar's brother would have to do away with any sympathy for his family member.
In the face of a dangerous fight, Queen Aslaug (Alyssa Sutherland) is perhaps right to fear for the future of her sons. She fights with her husband when he informs that their sons will raid Paris along with him.
Queen Aslaug perhaps knows that her husband may not come back alive since he has been unwell for a long time. In addition to this, Ragnar has been chewing the drug made by the new foreign slave Yidu. Can a weak Ragnar win a battle against Rollo?
Season 4 episode 6's synopsis (via TV Guide) reads:
At the Thing in Kattegat, Ragnar reveals his plan to raid Paris again, and, although the fleet is storm-tossed as it sets out, the challenge lies in the France, where Rollo awaits. Meanwhile, Ecbert dispatches Aethelwulf and Alfred on a pilgrimage to Rome.
"Vikings" Season 4 episode 6 airs 10 p.m. Thursday, March 24, on History Channel. You can live-stream the episode via History Channel's website.