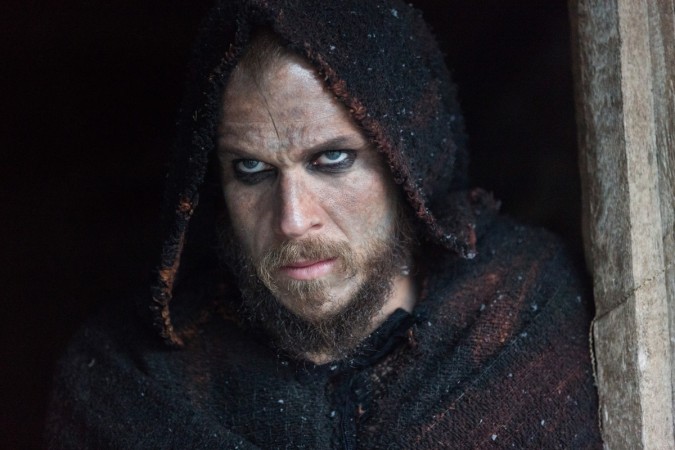 Ragnar will continue to feel isolated in the latest instalment of the historical drama, "Vikings." In Season 4 episode 5 titled "Promised," Floki (Gustaf Skarsgård) will find a way to avenge the humiliating treatment meted out to him.
Fans of the show will remember that Floki shivered in the cold when episode 4 aired. Though he endured torture at the hands of Ragnar (Travis Fimmel), he did forge an interesting relationship with Queen Aslaug (Jessica Sutherland) towards the end. He promised to build a boat for her beloved son Ivar, and will be introduced to her new friends King Harald Finehair (Peter Franzén) and his brother Halfden in the upcoming episode.
[Spoiler Alert]
In the promo, Floki and King Harald, who wishes to overthrow Ragnar, toast to a new friendship. Floki's craftsmanship will prove to be useful when the Norse King's guest wages a battle against him. Another video clip for episode 5 captures Harald looking aggressive and violent when he tells his men, "We are the masters now, aren't we?"
The promo indicates that Lagertha (Katheryn Winnick) will also fight in the battle, in which Queen Aslaug's son Ivar will be gravely injured. Ragnar's second wife holds him tightly as she walks away from the battlefield. Will her son survive?
Season 4 episode 5's synopsis (via TV Guide) reads:
Betrayal is in the air at the Court in Paris and Wessex as trusted people plot against Odo, while Ecbert agrees to throw his support to Kwenthrith in Mercia. Meanwhile, Ragnar reveals his deepest secret to Yidu; pregnancy brings happiness to Lagertha and Kalf and an arranged marriage doesn't come on as planned.
"Vikings" Season 4 episode 5 airs Thursday, March 17, at 10 p.m. on History Channel. You can live-stream the episode here.