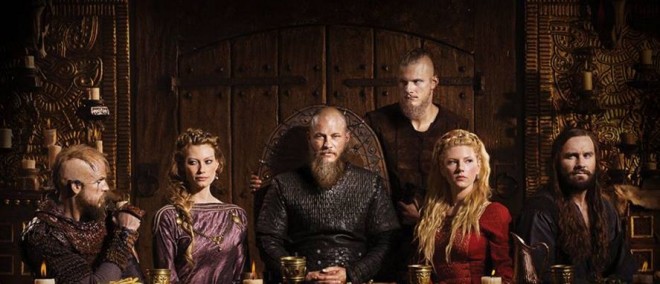 "Vikings" will go on a mid-season break following the upcoming Season 4 episode 10 titled "The Last Ship." The episode will see an epic war of great magnitude, but it will ultimately come down to the battle between two brothers, Ragnar (Travis Fimmel) and Rollo (Clive Standen).
Ragnar has gotten too impatient to reach land and conquer Paris, because right now what he wants more than anything else is to kill his brother Rollo. In the official trailer for the episode, he tells his brother, "One of us will die today." The King of Norway is heard telling himself how he would thrust his sword into his brother's heart.
Rollo is not ready to give up either, and in response to Ragnar's threat about either of them dying he says, "It won't be me." Fans know that Ragnar is already unwell and has been fighting an uphill battle with his deteriorating health for a while now. This could finally be Rollo's moment. With his Frankish army marching confidently behind him, he can finally kill his older brother and be the ruler he wants to be.
Also Read: 26 iconic photos of the Queen Elizabeth since 1986
The fate of the brothers remains unknown, but the show will definitely return with at least 30 more episodes -- 10 in Season 4 and 20 in Season 5. Even before the completion of the current season, History Channel has renewed the show for Season 5, and according to Deadline, Jonathan Rhys Meyes will have a recurring role in it.
Season 4 is the first season of "Vikings" which has had more than 10 episodes, and so the premiere date of Season 5 also remains a mystery. Generally "Vikings" tends to premiere towards the end of February and one can only hope that that will be the case with Season 5 as well. However, because episode 20 of Season 4 will be aired much later, the new season will be further delayed as well.
However, the more pressing matter is who will die in "Vikings" Season 4 mid-season finale? Check out if your guess was right when "Vikings" Season 4 episode 10 airs at 10 p.m. (EST) on April 21 via History Channel. You can live-stream "The Last Ship" via History Channel's website.