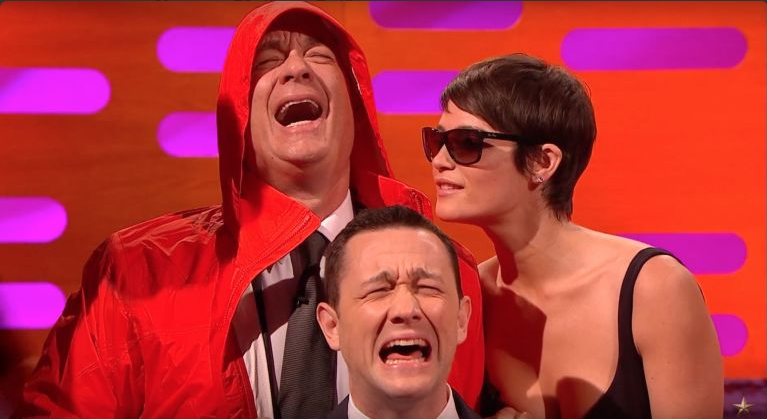 Back in 2013, Laura DiMichele-Ross posted an image of her son wailing in the arms of Bill Murray. In the image posted by the fan, Murray is sporting an orange jacket, imitating the crying child, posing for the camera. The picture recently went viral with people on the internet going crazy as they debated if the actor in the picture was actually Tom Hanks and not Murray.
Clearing the confusion in October, the mother confirmed that it was actually Bill Murray. "It's definitely Bill," was her answer, when BBC contacted her for the confirmation. The picture was taken by her husband Adam at the Alfred Dunhill Links golf competition at St Andrews in October 2012.
However, the stark resemblance is still questioned by the people on social media platforms. So, when Hanks came to London to promote his new movie Sully, he was asked his opinion on the viral picture. "Well, I've been doing a pale imitation of Bull Murray for most of my career. It actually works out," Hanks joked in an interview on The Graham Norton Show.
Clearing the confusion from his side, the actor confirmed that he is not in the picture. "I know that it's not me, because I did not take that picture," he said, further adding, "Yeah, I can make that face." Taking the opportunity, Graham Norton Show host, Graham Norton handed over an orange hooded jacket to Hanks and the latter reenacted the Murray photo along with other guests of the show, Gemma Arterton and Joseph Gordon-Levitt playing the parts of the mom and her son.
Talking about his movie, Sully, the acclaimed actor told the Graham Norton Show host that he was intimidated by Sully director, Clint Eastwood. "So when he's in charge, he says in a really quiet soft voice, 'All right, go ahead,' and instead of shouting 'Cut!' he says 'That's enough of that.' It's intimidating as hell!," Hanks shared.
Hanks also said that the real Sullenberger was very particular about how the actors portrayed the procedure and the emotions. "He pulled out this dog-eared, stapled and notated script that he had read. Postits, stapled index cards all over it – I'm sure his wife had even written 'No' across it in lipstick! We went through every page and every moment, every beat had been commented on. He had opinions," the actor shared.
Watch the video of Tom Hanks reenacting the photo here: