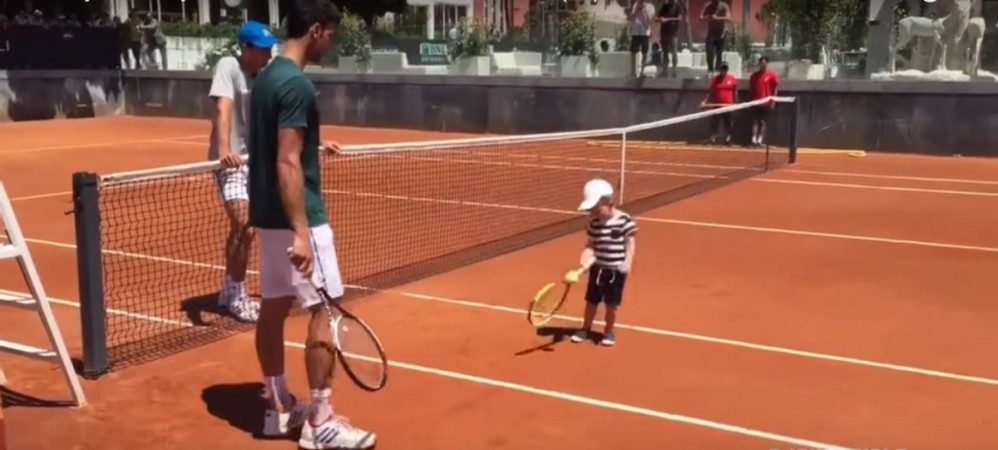 Novak Djokovic is one of the best players of the modern era, winning as many as 12 grand slam titles so far, including six Australian Open victories. Now, his two-year-old Stefan also seems to be interested in following Novak's footsteps as he was seen playing some tennis with his dad, and Indian doubles specialist Rohan Bopanna.
Though Stefan is too young to play a regular game of tennis, he did show that he is learning the tricks of the trade as he hit the ball with his forehand.
After the shot, there were cheers from Djokovic and Bopanna, which might have encouraged Stefan to have another go at it. He also gave a high five to the Indian star. Stefan followed that with another forehand shot.
Meanwhile Djokovic and Bopanna were also involved in some talk, and it must have been about how Stefan is interested in the game of tennis from such an early age. Djokovic, if given a chance, would not mind if Stefan goes on to become a future grand slam winner. That would be something for the Djokovic family to cherish.
As of now, Djokovic might be enjoying his time with his son in Rome, but he has some major matches coming up. The Serbian will face Del Potro in Rome Masters quarterfinals on Friday.
However, later during the month, Djokovic will be keen to perform at his A level in the upcoming French Open too.