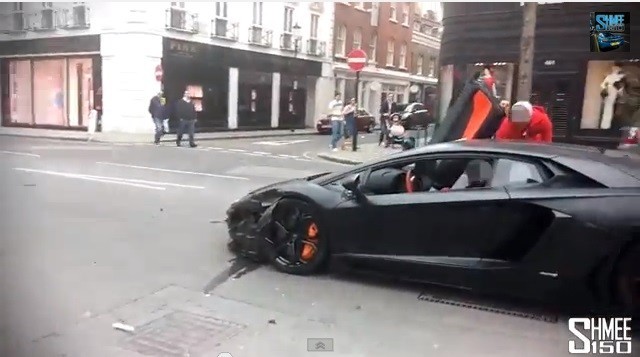 There are quite a lot of videos of crashes, accidents and massive road mishaps posted online. But one particular video of a simple road accident has become a viral hit with more than three millions views in YouTube ever since the video was posted on 31 March.
There is one good reason for this.
The accident does not involve any ordinary cars. It is Lamborghini Aventador - an expensive two-seater sports car introduced at the Geneva Motor Show on 28 February 2011.
What else could possibly make one more curious than the fact that a video of a $500,000 sleek-looking sport car has just been filmed crashing in a posh road in London.
The matte black Aventador is seen in the video slamming into a turning Mazda 5 van and a station BMW 3 Series. The Avantador's right front tire is seen climbing onto the Mazda's fender sending the Lambo airborne and slamming into the helpless BMW.
Luckily, no one was injured, although the two people inside the Lamborgini are clearly seen in a panicked state after the accident, according to CNBC.
Later on, the car left the scene of the crash on the back of a tow truck with significant damage to its front end.
Inhabitants of London's "Platinum triangle," a small area comprised of Mayfiar, Knightsbirdge and Belgravia, are reportedly used to the sight of expensive cars speeding through its streets. The area, after all, is supposed to be neighbourhood of choice for millionaires and billionaires.
A recent survey by real-estate agency Beauchamp Estaes and Dataloft cited by CNBC had found that London is the home to the highest number of billionaires in Western Europe.
The Aventador made its debut in 2011 as Lamborghini's flagship model. It was the successor to the company's ultra successful Murcielago. Powered by a 6.5 liter, 700HP V-12 driving a Haldex 4 wheel drive system, the car can reach the speed of 62 mph from a standstill position within 2.9 seconds. It has a top speed of 217 mph and starts for $397,500.
Watch the Video of the Crash Below: