Talks about the bout between two-division UFC champion Conor McGregor and unbeaten boxer Floyd Mayweather have been gaining momentum in the last few weeks. It has been taken to another level now, with their first public press conference on Tuesday.
There was plenty of trash talking done by both the boxers, with each promising to outdo the other inside the boxing ring. Before the mega bout on August 26 at the T-Mobile Arena in Las Vegas, there will be a lot of staring and jibes thrown at one another. One would not be surprised to see some fist action before the mega bout too.
However, it was McGregor who made some loud noise at the first of the four-city press tour. He left no stone unturned to take a dig at Mayweather, who had to come out of retirement for the bout to materialise.
Mayweather — one of the richest sportspersons in the world — arrived at the press conference in casuals, and McGregor quickly said he can no longer afford a suit.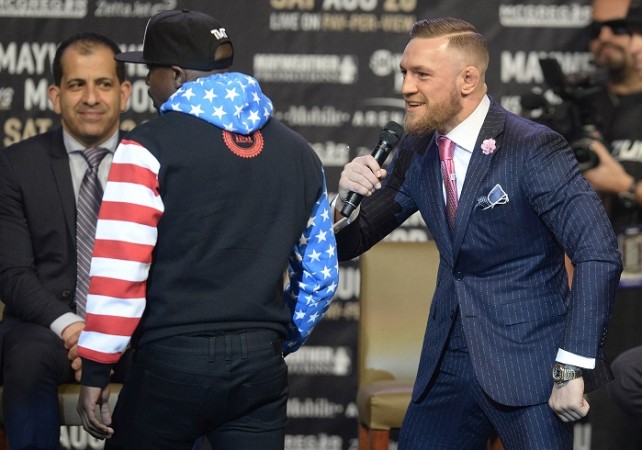 "He's in a fucking track suit. He can't even afford a suit anymore! The Rolls is a 2012 outside. He is fooked!, " said McGregor.
That was not the end of it as McGregor promised that he will end the fight inside first four rounds.
"There's no other way about it. His little legs, his little core, his little head. I'm going to knock him out inside of four rounds, mark my words. The movement, the power, the ferociousness. He's not experienced this. He's fought people who have shied away from him. I don't fear this limited set of fighting."
These are definitely big words from McGregor, but his opponent has not lost a single professional bout inside a boxing ring. There is a reason why Mayweather is regarded as one of the greatest to have ever graced the sport.
Mayweather, however, was not ready to be only the listener, and 'The Money' said he might have grown old, but will still emerge victorious.
"I'm an old man. I'm not the same fighter I was 20 years ago, I'm not the same fighter I was 10 years ago, I'm not the same fighter I was five years ago, heck, I'm not the same fighter I was two years ago, but I can beat you," Mayweather said.
Though Mayweather, with his experience and class, will start the bout as a favourite, McGregor enjoys massive support too. In fact, the first press conference suggested that fans want the UFC champion to beat Mayweather as there was plenty of support for McGregor in the crowd.
The bout is one of the biggest to take place in recent years, and the attendance of around 11,000 established the fact.