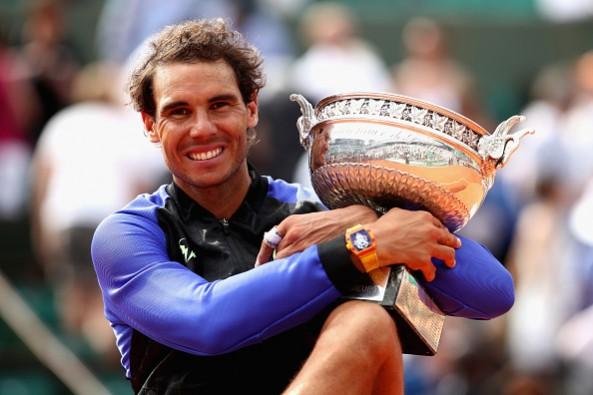 It was all Rafael Nadal in French Open 2017 final as the Spaniard dominated Stan Wawrinka on Sunday. He finished off the Swiss star in straight sets, winning the match 6-2, 6-3, 6-1 to claim his record tenth Roland Garros title and his fourth title of the year, helping him jump to second place in the ATP rankings.
Nadal stamped his authority on the match from the word go,which set the tone for his dominance. It always looked like it was going to be a Nadal match. Throughout this tournament one waited for someone to step up and finally test Nadal, but the Spaniard proved why he is regarded as the king of clay, dominating this clay court season like no other.
Also read: This is when tennis fans will get to see Roger Federer back in action
The Spaniard broke Wawrinka to make it 3-2 and then went on to win the next three games. He broke the Swiss once more in the process as he won 6-2.
The Spaniard did not waste any time in wrapping up the second set as he finished Wawrinka off in 45 minutes. Nadal raced to a 3-0 lead in no time before Wawrinka broke back to make it 3-1. Nadal broke back immediately to make it 4-1 and went on to claim the second set 6-3.
Just before the Spaniard won the second set, Wawrinka looked frustrated with his performance and ended up smashing his racket on the ground before bending it with his knee completely.
The third set proved to be too easy for Nadal and it looked like Wawrinka had given up. He broke Wawrinka on his very first serve and again broke him twice to win the final set 6-1 as he completed his long awaited La Decima!
"It's really unbelievable, to win the 10th is incredible, and it's very special. I'd like to thank all of you today. I'm very emotional. I try my best in all the events but the feeling I have here is impossible to describe. For me, the nerves, the adrenaline I feel when I play on this court is impossible to compare. It's the most important event in my career, so to win here is something I cannot describe," Nadal said after his win.
Everyone expected a Nadal clinch the French Open title, considering how he dominated the clay court season this year. Other than a quarter-final exit in the Italian Open, the new world no.2 has won ever other clay court tournament this year (Monte Carlo Master, Barcelona Open and Madrid Open) and if he can continue this form for the rest of the year he could definitely move up to the no.1 spot.