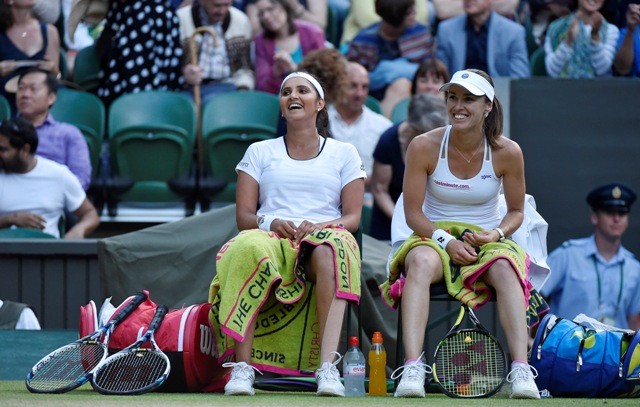 Sania Mirza and Martina Hingis have been in top form in the ongoing US Open women's doubles competition as they have reached the quarter-finals with utmost ease.
The top seeds have not dropped a single set in the US Open so far and will be eager to sustain the momentum in their clash against ninth seed Chinese Taipei pair of Yung-Jan Chan and Hao-Ching Chan on Tuesday.
The Taipei pair has looked good and was tested in its last match against Irina-Camelia Bequ and Raluca Olara, who won the first set but had to face a strong comeback by Yung-Jan and Hao-Chin in the second and third sets to help them reach the round of eight.
Yung-Jan and Hao-Chin, who have come to the US Open full of confidence after clinching the Cincinnati Masters, are aware of the tough task ahead of them, given that Sania and Hingis had won the last grand slam. The Indo-Swiss pair are on course for their second grand slam title.
Yung-Jan needs to bring all her experience into play when she and Hao-Chin meet the top seeds. Yung-Jan, who has been in the circuit for some time now, is yet to win a doubles grand slam title. Yung-Jan is aware that she can win her first grand slam title if she, along with her partner Hao-Chin, somehow finds a way to beat the Indo-Swiss pair at the Louis Armstrong stadium on Tuesday.
What makes Sania and Hingis a successful pair is their understanding on the court. While Hingis' game is apt at the net, Sania can put her powerful ground strokes to good effect from the baseline.
Ever since Sania and Hingis decided to form a pair in the doubles arena, they have been a huge force in the circuit, winning a number of titles. The Indo- Swiss pair will be eager to lift the last grand slam of the year after failing to win the French and the Australian Open.
Where to watch Live
Sania Mirza-Martina Hingis vs Yung-Jan Chan-Hao-Ching Chan women's doubles quarter-final match is approximately scheduled for 3pm local time (12:30am IST, 8pm BST, 5am AEST)start.
The entire live coverage of the 2015 US Open is scheduled for 12pm local time (9:30pm IST, 5pm BST, 2am AEST) start with live TV coverage in India on Ten Sports with live streaming option on tensports.com.
Day 9 live coverage can be followed by UK viewers live on Sky Sports with live streaming on Sky Go.
Viewers in the US can enjoy the entire action on ESPN and online on Watch ESPN.
Fox Sports will offer live coverage of the US Open 2015 in Australia with an online option on Foxtel.