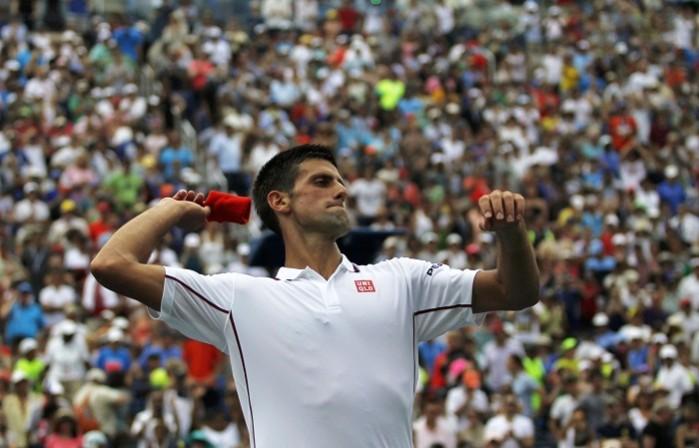 The first real blockbuster match of the US Open 2014 men's singles is upon us, with world number one Novak Djokovic taking on 2012 US Open champion Andy Murray, the man who beat him in that epic final, in the quarterfinals.
Whenever one of Djokovic, Murray, Roger Federer or Rafael Nadal face each other, it is a matchup to sit up and watch, and when it comes in a Grand Slam, that "you cannot miss it" level just gets cranked up that little bit.
"I think that's really why we play the game," said Murray about facing high-quality opponents like Djokovic. "You know, that's what you put the work in for, so that when you come to these events and you do have to play against the best players that you're ready.
"And, as much as it's incredibly tough and challenging, the match, that's what you enjoy. Playing on Wednesday, Wednesday night against the No. 1 player in the world is exciting.
"If you aren't getting motivated or pumped for those matches, then that's when there's a problem and it's time to maybe stop."
Murray certainly has no plans of stopping anytime soon, of course, despite being troubled by a persistent back injury. That back injury was not on view, however, when the Scot showed plenty of quality and character to dispatch the in-form Jo-Wilfried Tsonga in the fourth round.
"It was a good match for the most part, but, yeah, I mean, you never know, to be honest," said Murray about his progression in terms of form and fitness. "I feel like I'm playing well. I'm going to have to play extremely well to win the event or even just to get through the next match.
"You never know what can happen in a couple of days. A week ago I didn't feel great at all. Obviously after the first match was a big concern, you know, and now a week later I'm now in the quarters. A lot can happen in a few days."
Djokovic will obviously start as the favourite going into the quarterfinal, with Murray only seeded eighth. But, the Brit can take confidence from the fact that he has got the better of the Serbian in the last two Grand Slam finals – at the US Open a couple of years ago and then at Wimbledon in 2013.
"I mean, they obviously will help," Murray admitted. "It's more -- I wouldn't say in terms of getting confidence more. It's just having that experience of playing those matches. They were both very long, tough matches, as well.
"So I know that I can last those matches against him. I mean, I have said it a number of times -- anything can happen in a couple of days. I just do everything properly and hope on Wednesday I play a good match."
Djokovic did not come into the US Open in great form, but has slowly but surely found his old winning groove again, and unless Murray steps up a gear or two, he will find it difficult to stop the Serbian.
"He's already has been Grand Slam champion, Wimbledon, US Open, Olympic Games," said Djokovic of Murray. "So he has a lot of success behind him and a lot of experience behind him. He knows how to play in the center court of the US Open where he played some great tennis and we had some great matches. You know, the last one was in finals in 2012 in five sets."
Murray has been struggling a little with the heat in New York, and if the match ends up going the distance, then the smart money will be on Djokovic. However, as the Scot has shown plenty of times in the past, write him off at your peril.
Where to Watch Live
The big quarterfinal is scheduled to start after the Serena Williams vs Flavia Pennetta women's singles quarterfinal, which begins at 7 pm local time (4.30 am (Thursday) IST, 12 am BST). Live coverage in India will be on Ten Sports while the live streaming option is HERE. International viewers can catch the action HERE and HERE or listen to the action free HERE. Live updates of all matches are available online HERE, HERE or HERE.
Eurosport will broadcast matches live in the UK and Europe. Viewers can also live stream the action HERE or listen to the action live online on BBC HERE. Catch the action live on ESPN and CSB Sports in the United States or watch online via live streaming HERE orHERE. SuperSport will telecast the action in South Africa and Sub Saharan Africa and viewers can catch the matches live online HERE.