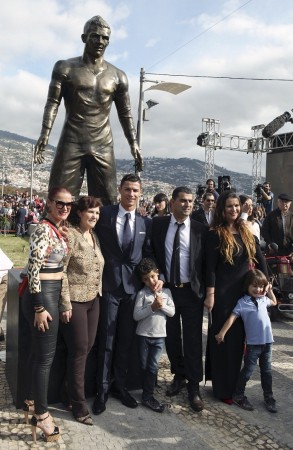 Cristiano Ronaldo did not have much time to savour Real Madrid's Club World Cup triumph, with the Portuguese superstar flying to his home town of Funchal in Madeira to be present at the unveiling of his statue.
The statue, very much like the man himself, is larger than life, standing at 3.4 metres with a few interesting characteristics thrown in.
"This is a very special moment, to have a statue of me," said Ronaldo. "Ronaldo has never forgotten his origins," added his mother Dolores Aveiro.
The statue will be just one piece of a huge collection of Ronaldo's accolades, which also includes several of his titles, individual and team, with the marquee ones being his two Ballon d'Or titles won for being the FIFA Player of the Year.
Indeed Ronaldo might have another Ballon d'Or to add to the collection soon, with the 29-year-old favourite to add a third player of the year title.
Great rival Lionel Messi of Argentina and Barcelona and Manuel Neuer of Bayern Munich and world champions Germany are the other two shortlisted candidates.
While Ronaldo's Portugal team disappointed at the World Cup in Brazil, the player himself has had a great individual year, scoring bags of goals like he always does, while also leading Real Madrid to the Champions League, Copa Del Rey and Club World Cup titles.
Winning the Ballon d'Or next month will, no doubt, be the icing on the cake.