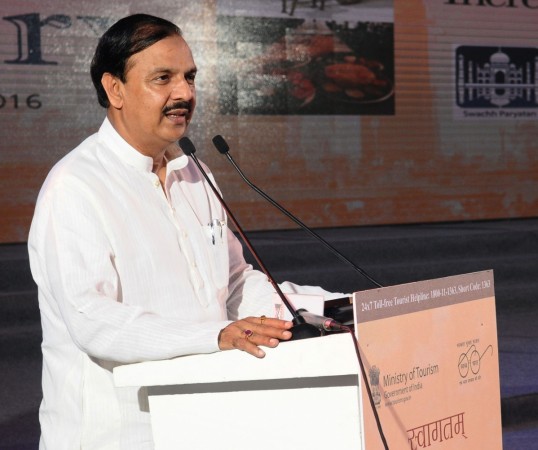 Union minister Mahesh Sharma has apologised to the resident welfare association (RWA) of Ashiana Green apartments in Ghaziabad after his personal security guard slapped the residential complex's guards. Sharma also said that he has suspended the private security guard.
A video on social media showing Sharma's security guards repeatedly slapping the housing complex's guards had cropped up on Friday. The minister was visiting his sister during Raksha Bandhan on Thursday. The guard had slapped the residential complex's watchman asking why Sharma's car was stopped despite the beacon. Two other watchmen, who tried to stop Sharma's guards, were also assaulted.
"It took hardly two minutes for us to open the gate, still the minister's security thrashed and abused us," a watchman who was assaulted told reporters.
The minister responded to the event saying, "Both are guards. Not so educated. They were fighting. Why drag a minister into this?"
I have gone their more than 100 times. I know the protocol. My security person told the guard that this is the flat number and he is the minister who is going in. Inspite of that he held me, which is fine. Later he permitted me to go," said Sharma.
When I came to know of the incident, without finding out who is guilty I apologized to the society guard," Sharma said. "I have also suspended my security guard and have asked the Police to inquire into the incident."
CCTV: Union Minister Mahesh Sharma's security personnel thrash housing society guards in Ghaziabad (18.8.16)https://t.co/7IL9iRXbia

— ANI UP (@ANINewsUP) August 19, 2016