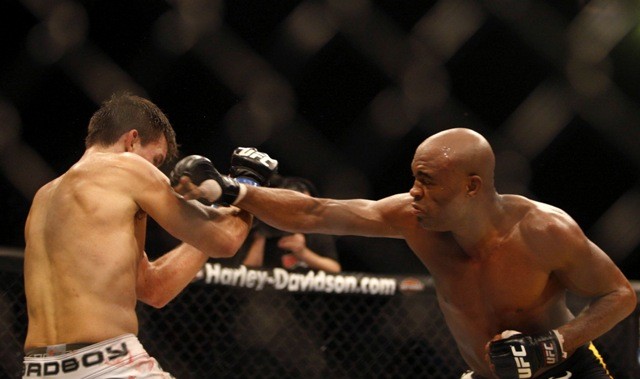 UFC Middleweight fighter Michael Bisping has waited almost 10 years to take on the legend Anderson Silva, and it's all coming true for the Englishman now as he gets to take on the Brazilian Saturday at the UFC Fight Night at the O2 Arena in London.
When Bisping, 36, made his debut in the UFC Middleweight division, Silva had almost achieved the status of one of UFC's greatest fighters. And over the years, the Brazilian, known for his insane striking ability, got stronger.
Silva, who turns 41 this April, comes into the fight after more than a year of staying out. He fought Nick Diaz in January 2015, but was soon suspended by the UFC after it was revealed he had failed a drug test.
"Is the legend still there? Yes and no. I respect what he's done in the Octagon," Bisping said of Silva to UFC.com. "The guy is a legend for what he has achieved, but I can't look at him as a legend. I can't walk into the Octagon thinking, 'I'm fighting this amazing legend.'
"I'll be looking at him thinking: 'I'm fighting yesterday's news, I'm fighting a guy who can't compete anymore, I'm fighting a guy (that) has cheated his whole career and I'm fighting a guy who is just coming off a suspension," he said.
Tempers flew during their staredown at the official weigh-in. Bisping offered to shake his hand with Silva but as soon as the Brazilian retaliated, the Englishman retracted. Catch the staredown below:
Anderson Silva doesn't have age by his side, but he does have the confidence to carry on despite all the criticism he has faced in the last one year. He is not too sure whether he still has the stamina and the strength to compete for the UFC Middleweight Championship again someday, but for now, he wants to focus on getting the first job — defeating Bisping — done.
"Michael has a good stand-up game but I come to this fight to win. I've trained my body and mind hard for this. This is a challenge for me especially," Silva spoke ahead of the fight. "My focus is on fighting Bisping for now and about the next step, I'm not really sure."
UFC London: Silva vs Bisping airs LIVE from 4 p.m. EST / 1 p.m. PST (2:30 a.m. IST, 9 p.m. GMT, 7 a.m. AEDT).
Where to watch LIVE (Main Card)
In India, the action can be watched early on Sunday morning at Sony ESPN and Sony ESPN HD.
In the US, UK, Brazil and Ireland, the event can be exclusively watched on UFC Fight Pass.