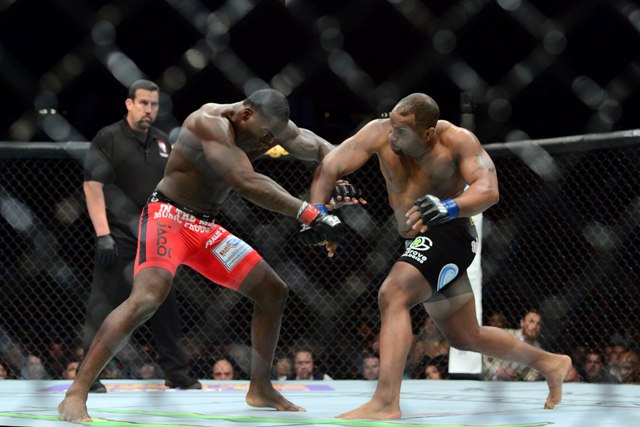 Anthony "Rumble" Johnson squares off against Ryan "Darth" Bader in a three-round Light Heavyweight fight at the UFC on Fox 18 event scheduled to take place at the Prudential Centre in Newark, New Jersey, on Saturday.
The two of the most vicious fighters present in the UFC roster today feature in the first-ever non-title UFC main event of the calendar year 2016.
While Johnson is known for his lethal striking ability inside the octagon, Bader is well-known for his wrestling acumen as well as his beautiful ground game. Both the American mixed martial arts fighters are expected to make the event come alive on the night, and the UFC fans can expect for a mouthwatering display of MMA.
Johnson, who comes into the fight with a 20-5-0 record in the octagon, is an experienced customer, after appearing in three different weight classes in his career. The No 2 ranked UFC Light Heavyweight fighter also has the ability to make it to the Heavyweight division, but that is not a decision he has taken yet.
The 31-year-old, who comes into the fight following a second round TKO (technical knockout) win against Jimi Manuwa at UFC 191, has, however, set his priorities straight for tonight's fight. "I know he's [Bader] going to try and wrestle with me. Once again everybody thinks that wrestling is my weakness. But if he wants to wrestle, come on," Johnson was quoted by UFC ahead of the fight.
"They want to think that I'm mentally weak, that's fine. I hope they go into the fight with that mindset, because they're in for a long night if they do. All I can say is, 'Keep your hands up and your chin down'. That's all I can say because I can end you in any round I want to."
Bader, meanwhile, is not an underdog. The 32-year-old is on a six-match winning streak in the UFC; his latest win coming over veteran Rashad Evans in UFC 192. 'Darth' is 21-4-0 in the Octagon and he says that he knows exactly how to shut Johnson up.
"He's [Johnson] going to come out and try to take my head off," Bader said. "I'm going to try and use what I'm best at and put it all together. That doesn't mean I don't think I can strike with him, because I think that I can."
Both fighters weighed in at 205 pounds in the pre-fight weigh-in.
UFC Fight Night: Johnson vs Bader. Main Card:
Light Heavyweight bout: Anthony Johnson vs Ryan Bader
Heavyweight bout: Josh Barnett vs Ben Rothwell
Bantamweight bout: Iuri Alcantara vs Jimmie Rivera
Welterweight bout: Sage Northcutt vs Bryan Barberena
Where to watch live
The Main Card fights air LIVE from 8 pm EST / 5 pm PST (6:30 am IST, 1 am GMT, 12 pm AEDT)
In India, the action gets under way as usual on Sunday morning at Sony Kix. Live streaming will be available on LivSports.
US and Canada viewers have to watch the event on FOX and CTV 2 respectively.
Fox Sports Australia remain the destination for viewers from Australia, while Sky TV will broadcast the event in New Zealand.
BT Sport 2 will broadcast the event live in the UK and Ireland.
MMA fans in Brazil can tune in to Combate for the heated action.
Live streams - UFC TV, YouTube (not available in the UK, Brazil, and India).