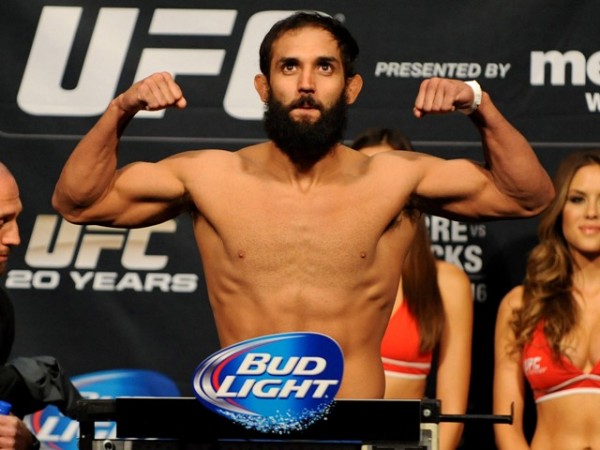 The UFC event on Saturday at the MGM Grand Garden Arena in Las Vegas, Nevada, was originally scheduled to be headlined by a Heavyweight Championship match between champion Fabricio Werdum and challenger Cain Velasquez. However, some last minute injuries to the juggernauts forced the UFC to come up with a different plan.
The No. 2 ranked UFC Welterweight fighter in the world Johny Hendricks takes on Stephen Thompson in the main event now. The three-round bout holds immense importance in the Welterweight division now as the winner may find himself taking part in a title shot by the end of the year.
And current champion Robbie Lawler, who just won his match against Carlos Condit on UFC 195 -- the first UFC PPV of the calendar year 2016 -- will have his eyes fixed on Saturday's fight. Also, "Cowboy" Donald Cerrone takes on Alex Oliveira in another mouthwatering UFC Welterweight bout later this month at UFC Fight Night 83.
The fight division is thus jam-packed as of now, and the competition is at an all-time high, as we keep progressing to the company's landmark event, UFC 200, to be held in July.
Both Hendricks and Thompson weighed in at 170 pounds in the official weigh-in of UFC Fight Night 82 on Friday, and both fighters will be expected to heat things up once they step inside the octagon.
Stephen Thompson, revered for his striking acumen, has a six inches reach advantage over Johny Hendricks, and using the reach will be an important key to win for Thompson on Saturday.
"I haven't faced anybody who throws kicks like him, but I have faced opponents who have kicked, thrown a lot of elbows and punches like Carlos Condit [at UFC 158]," Hendricks said ahead of the fight, the official UFC site reports. "I fought guys as tall as him, and I was able to stay outside his distance, and also inside his distance. So, I can't wait till Saturday [to fight Thompson]."
For Thompson, it's all about doing what he does best on the fight night. "He [Hendricks] hasn't yet faced anyone like me. My style, the way I move, the distance management. It's really difficult how to deal with those skills, unless there's somebody you train with to deal with those skills.
"I want to frustrate my opponent," said Thompson.
UFC Fight Night: Hendricks vs Thompson airs LIVE from 10 pm EST / 7 pm PST (8:30 am IST, 3 am GMT, 2 pm AEDT).
Where to watch LIVE (Main Card)
In India, the action gets under way as usual on Sunday morning at Sony ESPN. Live streaming will be available on LivSports.
US viewers can watch the event on Fox Sports and Fox Deportes. Online streaming is also available on Fox Sports Go. Viewers in Canada can catch the action on CTV 2 and RDS 2.

BT Sport 2 will broadcast the event live in the UK and Ireland.
MMA fans in Brazil can tune in to Combate for the heated action.
Live streams - UFC TV (not available in the UK, Brazil, and India).