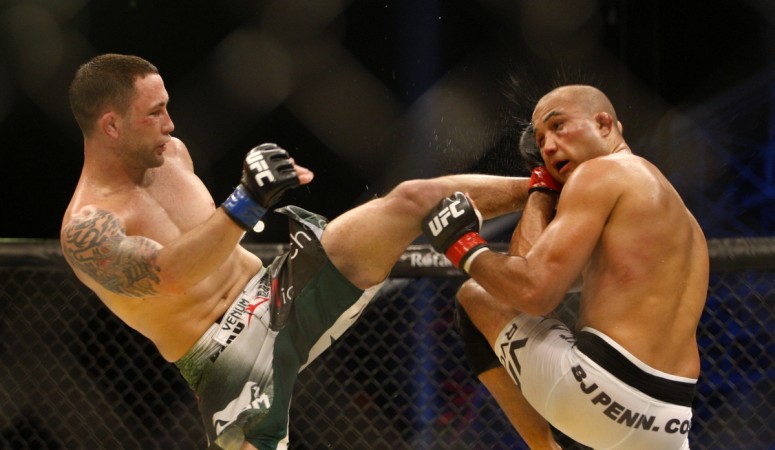 Ultimate Fighting Championship (UFC) fans have been waiting for the major showdown between two of the greatest fighters, Frankie Edgar and Urijah Faber. The featherweight bout has been talked about on a large scale for many years and it will finally come true on 16 May with the fight scheduled to take place at SM Mall of Asia Arena in Pasay, The Philippines.
There is not much to choose between the two MMA (mixed martial artist), for both of them have enjoyed a successful career so far. Urijah Faber has lost seven times in his 39 fights so far and Edgar has lost four times in his 23 fights and no one has been able to defeat "The Answer" (Edgar) via knockouts or submissions.
One has to take note that the former UFC lightweight champion Edgar lost three of his fights in succession (two in 2012 and one in 2013), which might have hurt Edgar's reputation as well. But Edgar showed his class in his last three matches defeating his opponents via submission, knockout and decision.
So Edgar will be eager to stretch his winning ways when he takes on Faber on Saturday in the five-round fight. Edgar needs to be on top of his game to script a win against Faber, who has only suffered a single lose in his last seven fights.
"You know I don't think I have much of a size advantage. Urijah talks about it, he walks around 158-162 and that's kind of what I walk around at," bloodyelbow.com quoted Edgar as saying.
"I think I may have like a half-inch on him so if that's the size advantage I'll take it. You know, I don't really look at size, even when I was a little guy I didn't really pay attention to it."
Though Edgar might not be talking much about the size advantage, he is aware of Faber's submission moves, which could pose a huge problem and "California Kid" (Faber) might want to take full advantage of his submission skills, if a chance comes by.
Edgar confident about the fight
"I don't think I have to avoid anything. I mean I feel confident anywhere this fight goes, I know he's very opportunistic with submissions and in the scrambles especially, so I got to be aware of those things. But, pretty fast too and I scramble pretty well, too, so I just gotta make sure I'm on Ps and Qs and I'll be alright."
Those who have witnessed UFC fights in the past, one does know about Faber's skills, especially his 'clinch' and ground grappling are something, which is difficult for opponents to handle. Edgar needs to be aware of Faber's overhand right and left hook as well.
One will love to see these fighters in action, who are also the best transitional fighter in UFC.
Irrespective of the result, people in the Philippines are expected to enjoy the event, which will also witness a number of other preliminary as well as main card fights.
Where to Watch Live
The live coverage of the UFC Fight Night 66 between Frankie Edgar and Urijah Faber is scheduled for 10am ET start (7:30pm IST and 3pm BST).
The US viewers can watch it live on Fox Sports 1 while viewers in the UK can watch it on BT Sports 1.
The bout can also be streamed online on UFC official website.