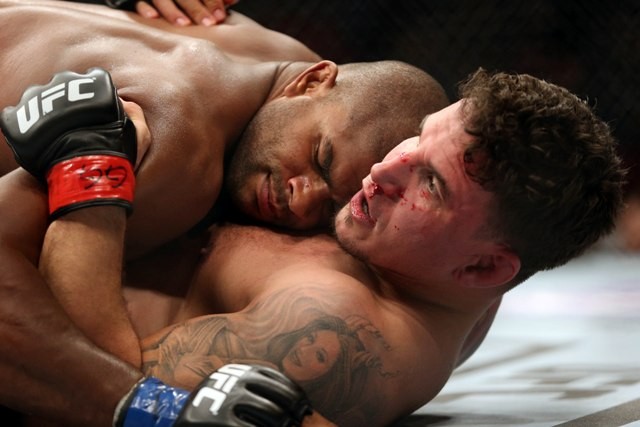 Two of the veteran juggernauts of UFC, Mark Hunt and Frank Mir, go toe-to-toe in a scheduled five-round MMA bout at UFC Fight Night 85 in Brisbane, Australia, Saturday. Both Hunt and Mir are expected to bring in years of rich MMA experience inside the octagon, once the heavyweight clash is underway.
The build-up to the event has not been as dramatic as UFC 196, where Nate Diaz got past Conor McGregor and Miesha Tate defeated Holly Holm, but the intensity however will be no less in Brisbane.
"Super Samoan" Mark Hunt, 41, comes into the fight at the back of a 11-10-1 record in Mixed Martial Arts and anybody who has been following the sport over the years, know that Hunt is one of those lethal fighters who have made the "one-punch knockout" famous. He comes into the fight at the back of a first round TKO win over Antonio "Bigfoot" Silva, last November at UFC 193.
Hunt also has the experience of fighting MMA legends like Wanderlei Silva and Fedor Emelianenko. Frank Mir, meanwhile, is not afraid going into the fight as he knows his set of skill set and believes when the fight goes to the ground, he is the winner.
Frank Mir, 36, comes into the fight at the back of a 18-10-0 record in MMA. He is only second behind the legendary Royce Gracie to have the most submission wins in UFC history with eight. "The differences that he has over me in striking, I feel like on the ground, grappling wise, the gap is really great," Mir told Fox Sports.
"Obviously if this was a K-1 [kickboxing] fight, Mark has been doing it for many more years than I have as far as pure standup, so you'd have to give him the advantage.
"I think part of my strategy in the fight is that he really has to worry about the takedowns and the only way he's going to worry about it is if I take him to the ground early in the fight a couple of times. Even if he survives, it's not a loss because now he can't put 100 percent of his mind into striking because he knows I can get him down," the former two-time UFC heavyweight champion added.
Mark Hunt weighed in at 264 pounds, while Frank Mir weighed in at 260 pounds in the official pre-fight weigh-in. Catch the staredown below:
UFC Brisbane: Main Card fights
Mark Hunt vs Frank Mir - Heavyweight
Neil Magny vs Hector Lombard - Welterweight
Jake Matthews vs Johnny Case - Lightweight
Dan Kelly vs Antonio Carlos Junior - Middleweight
James Te-Huna vs Steve Bosse - Light Heavyweight
Bec Rawlings vs Seohee Ham - Women's Strawweight
UFC Brisbane: Mark Hunt vs Frank Mir airs LIVE from 10 p.m. EST / 7 p.m. PST (8:30 a.m. IST, 3 a.m. GMT, 2 p.m. AEDT).
Where to watch LIVE (Main Card)
India - Sony ESPN and Sony ESPN HD.
US - Fox Sports 1, Fox Deportes.
Canada - TSN 2, RDS 2.
UK / Ireland - BT Sport 2.
Brazil - Combate.
Australia - Fox Sports 3.
New Zealand - Sky Sports Pop Up 1.
Live streams - UFC TV (not available in the UK, Brazil, and India).