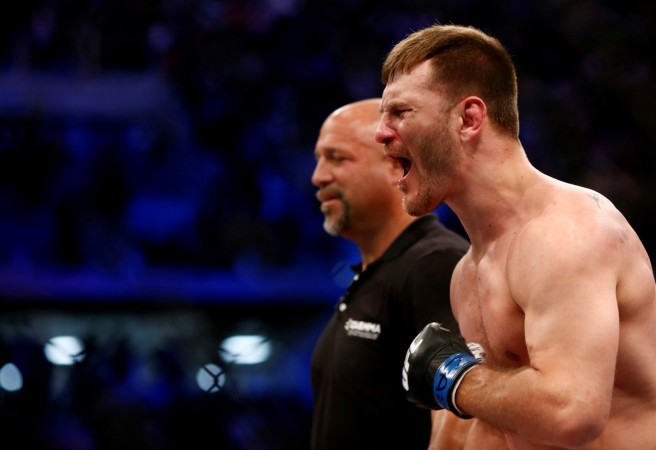 Former WWE superstar CM Punk received mixed reactions from all quarters when he signed for the UFC in December 2014. After all, professional wrestlers turning into pro fighting was never an usual affair. The likes of Ken Shamrock and Brock Lesnar, however, changed the notion over the years.
Shamrock and Lesnar had a proper martial arts background but not Punk. The 37-year-old athlete from Chicago may have been seen sparring once in a while with BJJ expert Rener Gracie, but that is it.
Pro wrestling fans will however know that when it comes to CM Punk, the unexpected happens. Against Mickey Gall, Punk could well be putting up a performance that could prove all his critics wrong.
The welterweight fight will be for three rounds inside the octagon at the Quicken Loans Arena in Cleveland, Ohio on Saturday. The staredeown between the fighters during the official weigh-in was nothing but intense. While Gall, who weighed in at 170.5 lbs, seemed to utter certain words to his opponent, CM Punk, who weighed in at 170 lbs, intended to stand still and look straight into the eyes of the 24-year-old even after Gall had taken a step back.
In an interesting moment during the weigh-in, Punk refused to shake hands with Gall. When being asked of the reason, the former pro wrestler mentioned: "He [Gall] was stuttering. He kept repeating, 'Oh you don't want to shake my hand, you don't want to shake my hand' or something like that. I'm not here to shake anybody's hand. I'm here to punch people in the face.
"I know this [MMA] is a difficult sport to master. I look forward to mastering it sometime and I realize that will probably never happen, but I will get as good as I possibly can," Punk added in retrospect.
The main event of UFC 203 features a heavyweight championship match between the champion Stipe Miocic and Alistair Overeem. Meanwhile, check out the staredown between CM Punk and Mickey Gall:
UFC 203: CM Punk vs Mickey Gall airs LIVE from 10 p.m. EST / 7 p.m. PT (7:30 a.m. IST [Sunday], 3 a.m. BST, 1 p.m. AEDT) on Sept. 9. For the main card, click here.
Where to watch live
TV information
India - Sony Six, Sony Six HD, Sony ESPN, Sony ESPN HD.
US, Canada - PPV.
Brazil - Combate.
UK, Ireland - BT Sport 2.
Australia - Main Event.
New Zealand - Sky Sports Arena.
Live streams - UFC TV, YouTube (not available in the UK, Brazil, and India).