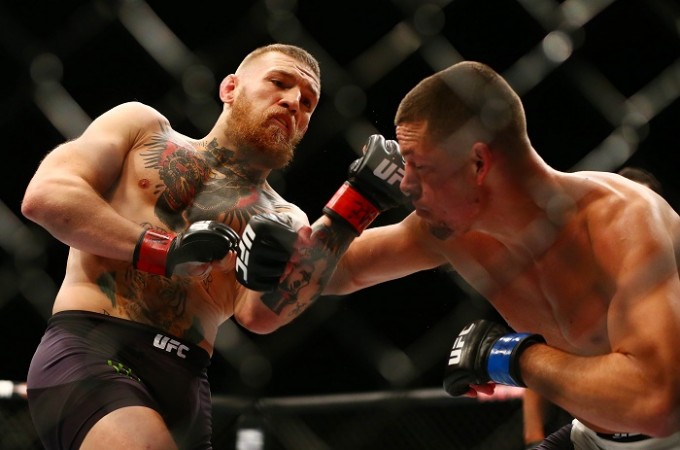 The most anticipated UFC rematch in recent times is finally set to take place on Saturday at the T-Mobile Arena in Las Vegas. The months and weeks of bad blood that has kept stemming between Nate Diaz and Conor McGregor, even following their UFC 196 bout earlier this year, could finally come to rest following UFC 202.
Only if Diaz gets yet another dominant win over McGregor. On the occasion of McGregor coming out as the winner this time around, expect a trilogy fight in the near future as well.
Both fighters go head-to-head, punch-to-punch, kicks-to-kicks and submissions-to-submissions in a non-title welterweight five-round bout inside the octagon. This pay per view (PPV) is also the first UFC event under new owners WME-IMG, making the occasion more historic.
The Irishman McGregor could easily have gone on defending his UFC Featherweight title following his dominant loss over Diaz in UFC 196, but he remained adamant on the rematch. The build-up to their UFC 202 headline fight has remained nothing, but brutal as massive number of security guards had to be called in for every event both attended together.
Bottles and cans were thrown at each other during the press conference earlier this week and UFC President Dana White had no option, but to call it off. Nevertheless, the British businessman wasn't that worried also as he knew the event was receiving the much-needed promotion and the fight is expected to be as brutal and mayhem as it can get.
McGregor weighed in at 168 pounds, while Diaz weighed in at 170.5 pounds at the official pre-fight weigh in and the staredown that followed between the fighters was none, but intense. Check it out:
The Irishman was criticised for his lack of ground game in the previous bout and taking no risks this time around, McGregor, 28, built a gym in the desert of Las Vegas for a specific eight-week fight camp. He sparred with middleweight fighters as well as jiu-jitsu black belts to prepare for the fight.
"This time I've been preparing to face a durable, experienced fighter who has the reach, height and the length," McGregor said. "I feel very confident that we will go in and get this win back. I'm still going to march forward, press forward and bust him. There will just be a lot more in my tank."
For Diaz, 31, it's all about continuing to do what he does the best. "I thought I could beat him the whole time," Diaz said. "I think he's a good fighter and a good talker. We're going to have to get in there and see what happens in the fight. That's what I'm here for and that's what we're all here for."
UFC 202: Nate Diaz vs Conor McGregor 2 airs LIVE from 10 p.m. EST / 7 p.m. PT (7:30 a.m. IST [Sunday], 3 a.m. BST, 1 p.m. AEDT) on Aug 20.
Where to watch live

TV information

India - Sony Six, Sony Six HD, Sony ESPN.

US, Canada - PPV.

Brazil - Combate.

UK, Ireland - BT Sport 2.

Australia - Main Event.

New Zealand - Sky Sports Arena.

Live streams - UFC TV, YouTube (not available in the UK, Brazil, and India).