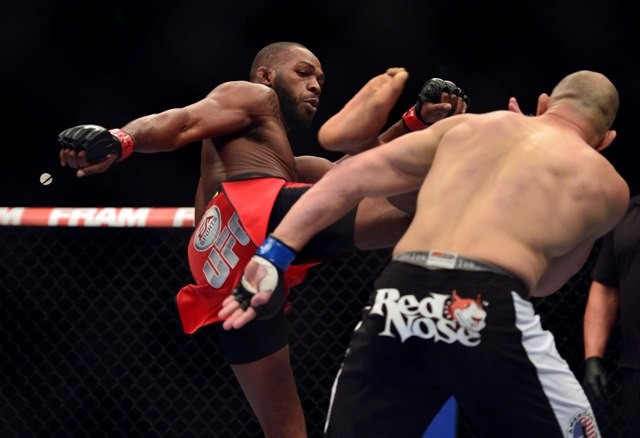 One of the key reasons to watch UFC 197 is Jon Jones. The former UFC Light Heavyweight champion of the world makes his much-anticipated return to the octagon after more than a year as he takes on Ovince Saint Preux (OSP) for the interim UFC title in the main event of the PPV at the MGM Grand Garden Arena, Las Vegas, on Saturday.
Jones was originally scheduled to take on the champion Daniel Cormier for the UFC title, but a knee injury just weeks ahead of the fight, forced Cormier to withdraw. Saint Preux was thus brought in as a replacement.
There was no trash talk or fancy gestures -- the official staredown between Jones and Saint Preux, following the official weigh-in, was no-nonsense. The fight can also be expected to be on the same lines -- straight and direct.
"I'm definitely not overlooking OSP," Jones, the favourite for the fight, was quoted as saying by the UFC. "OSP has a bunch of first-round finishes and he has great knockout power. Whenever you're fighting someone with great knockout power you really have to be on point and on your game."
Saint Preux, currently the No.6 ranked light heavyweight UFC fighter in the world, is also respectful of his opponent. "(I'm expecting the version of Jon Jones) that I've always seen. That's the version I want to fight anyway," said the 33-year-old. "It makes me that much better and it will make the fight that much more epic."
Both fighters weighed in at 205 pounds. Catch the staredown below:
Meanwhile, the co-main event of UFC 197 is also expected to be a classic. The UFC Flyweight title is contested between the champion Demetrious Johnson and Henry Cejudo. 'Mighty Mouse' Johnson goes into his eighth title defence on Saturday. However, it might not turn out to be too easy for the 29-year-old this time around, as Cejudo, apart from being undefeated in his UFC career, is also a 2008 Olympic Gold Medalist in Freestyle Wrestling.
Both fighters weighed in at 125 pounds in the pre-fight weigh-in. Catch the staredown below:
Where to watch LIVE (Main Card)
UFC 197: Jon Jones vs Saint Preux airs LIVE from 10 p.m. EST / 7 p.m. PST (7:30 a.m. IST, 3 a.m. BST).
In India, the action gets under way as usual on Sunday morning on Sony ESPN and Sony ESPN HD.
US and Canada viewers have to watch the event on PPV.
Main Event remain the destination for viewers from Australia, while Sky Sports Arena will broadcast the event in New Zealand.
BT Sport 2 will broadcast the event live in the UK and Ireland.
MMA fans in Brazil can tune in to Combate for the heated action.
Live streams - UFC TV, YouTube (not available in the UK, Brazil, and India).