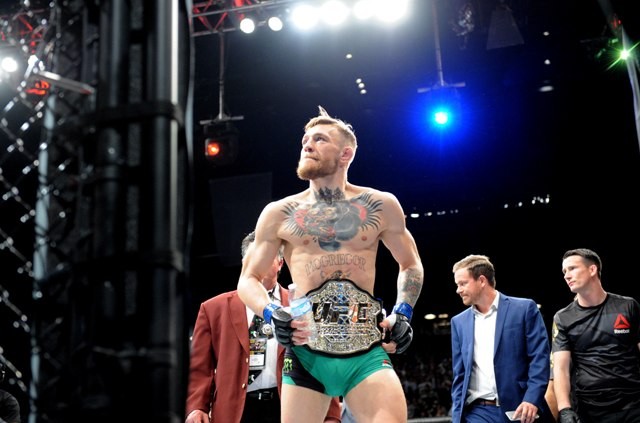 One of the biggest UFC PPVs of the calendar year 2016 -- the UFC 196 -- is here. MMA (Mixed Martial Arts) fans around the world will get to witness the two great athletes who shocked the world last December, inside the octagon once again, Saturday.
We're talking of Conor McGregor and Holly Holm. While McGregor made a stunning statement by Knocking Out former UFC pound-for-pound king Jose Aldo to become the UFC Featherweight champion in UFC 194, Holm gave the world an unbelievable moment to digest as she defeated UFC queen Ronda Rousey to become the new Bantamweight champion in UFC 193.
Holm will be going into her first title defence in the UFC in what is expected to be one of the best co-main events ever. She will take on the No 2 contender Miesha Tate.
About the main event, however, we can safely say that it will be one of the best in the history of UFC and it is simply unmissable. Irishman McGregor has taken the decision of climbing two weight classes up to take on Nate Diaz in a five-round non-title Welterweight bout.
Never mind there is no championship up for grabs here but when two of the UFC's best trash-talkers meet, we can only expect mayhem and some insane ground-and-pound action.
From 145 pounds to 168 pounds, McGregor underwent a massive transformation in just about less than two months but despite that, he is looking as ripped as ever. While Diaz weighed in at 169 pounds in the official weigh-in, Friday, McGregor weighed in at just a pound less.
The staredown that followed after their weigh-in didn't lack even a bit of energy as some "wrong" fingers were shown at each other. Check out the video below:
The amount of banter thrown at each other in the build-up to the fight has been insane and enough to get the audience interested, but at the end of it all, respect is something the UFC fighters have never shied away from showing to their opponents -- be it before the fight, during the fight and after the fight.
"I respect Nate. There are a lot of pu**ies in this game and he is not one of them," McGregor was quoted by UFC.com. "So don't get me wrong, there is a respect there between us. But it's business in there and business is business.
"He will be KO'd inside the first round. I come out of the trap like a greyhound – like a champion greyhound I come out and a hundred miles per hour. I don't stop," the Irishman said.
There has been no such bad blood banter between Holly Holm and Miesha Tate. Both of them are good friends outside the octagon and respect will be a key factor during their championship five-round bout. While Holm weighed in at 134.5 pounds in the official weigh-in, Miesha Tate weighed in at 135 pounds.
"I expect a really tough fight," Holm was quoted by Rolling Stone. "I'm going to get the best Miesha Tate there is. I'm really aware of that. Just because Ronda [Rousey] beat her doesn't mean that I can beat her. I have to expect her hardest game."
Tate, on her part, remains confident to shut her critics once and for all after a dominant display.
"I want to prove to the world that I'm the best," the 29-year-old said. "In my mind, I already am, but I have a little bit of proving to do on Saturday, obviously. There's some people who doubt and I want to shut out all cases of doubt. I want to go out and win this fight in emphatic fashion and be the champion."
UFC 196: McGregor vs Diaz airs LIVE from 10 p.m. EST / 7 p.m. PST (8:30 a.m. IST, 3 a.m. GMT, 2 p.m. AEDT).
Where to watch LIVE (Main Card)
In India, the action gets under way as usual on Sunday morning at Sony ESPN and Sony ESPN HD.
US and Canada viewers have to watch the event on PPV.
Main Event remain the destination for viewers from Australia, while Sky TV will broadcast the event in New Zealand.
BT Sport 2 will broadcast the event live in the UK and Ireland.
MMA fans in Brazil can tune in to Combate for the heated action.
Live streams - UFC TV, YouTube (not available in the UK, Brazil, and India).