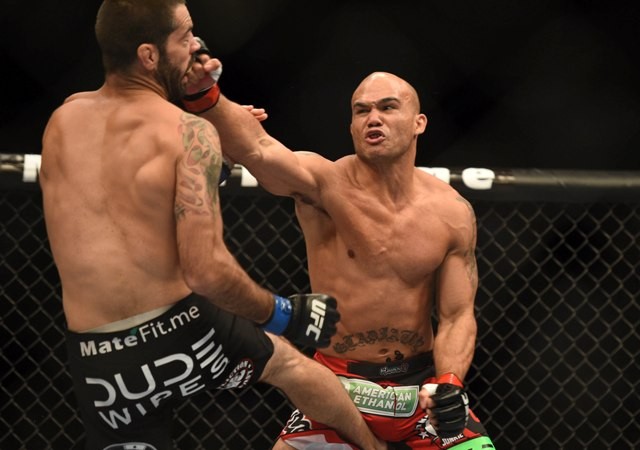 The first UFC PPV of the calendar year will be nothing but brutal. Two of the most lethal fighters in the Octagon go head-to-head in the main event, and MMA fans could not have asked for a better fight at the start of the year.
"UFC 195: Lawler vs Condit" takes place at the MGM Grand Garden Arena in Las Vegas on Saturday, 2 January, 2016. Robbie Lawler, the UFC Welterweight Champion of the world, takes on Carlos Condit in a five-round battle in the cage.
Both fighters are decorated Mixed Martial Arts (MMA) fighters, and have shed immense blood inside the octagon to reach this stage. "The Ruthless" Lawler goes into his second title defence tonight, and it won't be easy for him; the 33-year-old American fighter is well aware of that.
"The Natural Born Killer" Condit comes with a 30-8-0 record in MMA, and his ground skills are well-talked-about in the MMA circuit. In a tete-a-tete with IBTimes India, the 31-year-old said he is all set for the event.
"We didn't change [the training pattern] a lot [during the camp], we changed maybe specific tactics because of Robbie's style, and because he's a southpaw," Condit said. "There have been certain things we've been working on for the past couple of months, but in the overall preparation, we kind of stuck with what's worked in the past.
Lawler is known for his striking acumen, and Condit says he has a strategy to keep the champion at bay. "[I will] Use good movement, use range to avoid his power," Condit added.
The fight between them was initially scheduled to take place at UFC 193, but a last-minute injury sustained by Lawler changed it all. "Yeah, I feel great [right now, fighting in UFC 195]. The training camp has gone really well since that fight was postponed to now," the Welterweight title holder said. "It gave me time to work on skills when I needed to, I gave my body time to recover and build on what I've been doing in the past. It's been one of the best camps I've ever had, and I can't wait to show what I've been working on."
Condit weighed in at 169 pounds, while the champion weighed in a pound higher during the official weigh-in. Catch the staredown:
UFC 195: Lawler vs Condit airs LIVE from 10 pm EST / 7 pm PST (8:30 am IST, 3 am GMT, 2 pm AEDT).
Where to watch LIVE (Main Card)
In India, the action gets under way as usual on Sunday morning at Sony Six HD and Sony Kix. Live streaming will be available on LivSports.
US and Canada viewers have to watch the event on PPV.
Main Event remain the destination for viewers from Australia, while Sky TV will broadcast the event in New Zealand.
BT Sport 2 will broadcast the event live in the UK and Ireland.
MMA fans in Brazil can tune in to Combate for the heated action.
Live streams - UFC TV, YouTube (not available in the UK, Brazil, and India).