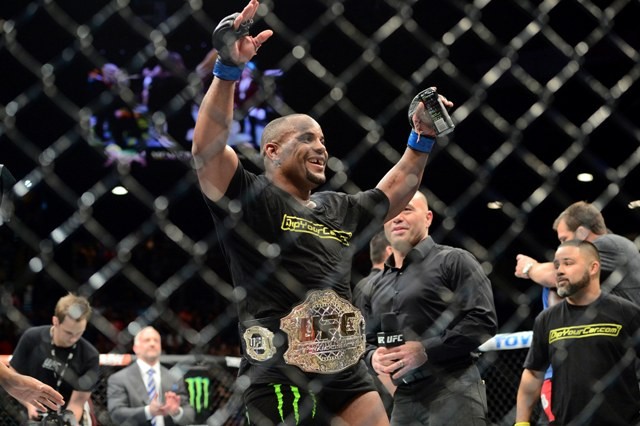 UFC Light Heavyweight champion of the world Daniel "DC" Cormier, takes on Alexander Gustafsson in the main event of UFC 192 at the Toyota Centre in Houston, Texas on Saturday night.
The importance of the fight reached massive heights in just a few days after rumours started surfacing that the winner of the title bout could take on former UFC champion Jon Jones -- regarded as one of the most lethal fighters ever to step in at the Octagon -- next.
Cormier, who holds a very decorated 16-1 record in his MMA (mixed martial arts) career, goes into his first title defense, after winning the belt against Anthony Johnson, with a third round submission, in the main event of UFC 187 in May this year. The gold was vacated by Jones after he was stripped off of the title and indefinitely suspended by the UFC on felony charges.
"DC" weighed in a pound higher than the towering Gustafsson at 205 lbs in the official pre-fight weigh-ins.
"You know when you start fighting, when your dream is to be the champion of the world, when you accomplish that, you don't feel it for long," Cormier was quoted by the Daily Mail.
"It doesn't hinder you. It only helps. So my training has always been really tough. I've always worked hard. I've always been very committed to my training and focused on my workout. It hasn't really changed. I'm still working as hard as I always worked, and I just know now that there is no way that I want to part with that championship that I worked so hard for," the former Olympian added.
Gustafsson, who stands in at 6'5", and has a remarkable 18 cm reach advantage over the champion, is widely revered for his striking abilities. However, Cormier believes that he is a far better striker than the Swedish fighter.
"I believe that if it's a boxing fight between me and Alex, yes I hold my own," the American said. "I believe that I'll be able to get on the inside against him. I believe that my hands are just as fast if not faster. And I believe that I'll hit with more power than he does."
"So yes if it's a stand-up fight, sure. Why not? I'd enjoy that."
Gustafsson, ranked No 2 in the world in his pound division, on his part shrugs off the verbal barbs and mentions that he is ready for everything on the fight night. "I don't pay attention to it, I barely even read it," Gustafsson said. "I don't even know what he's been saying. I'm on top right now, it's never been better in my career ... Whatever he wants, I'm down for it. I'll win every situation."
In the co-main event of the evening, UFC legend Rashad Evans takes on Ryan Bader in another Light Heavyweight bout.
Where to Watch Live
UFC 192: Cormier vs Gustafsson airs LIVE on Fox Sports 1 at 10pm ET / 7pm PT (7:30am IST, 3am BST)
India - Live coverage on Sony SIX/SIX HD & KIX.
United States - Four prelim bouts will be aired live on FOX Sports 1 at 8pm ET / 5pm PT, and the event's first three prelims will air exclusively on UFC FIGHT PASS beginning at 6:30pm ET / 3:30pm PT.
UK - Viewers can catch the main card fights on BT Sport 2.