The first trailer of Arjun Kapoor's much waited crime thriller "Aurangzeb" was released on Tuesday.
The two minutes and 25 second long video with the tagline "Kingship sees no Kinship" was unveiled by Yash Raj Films. Arjun Kapoor plays a double role in the film. Amrita Singh and Jackie Shroff will be seen paired opposite each other after a gap of twenty years. They last shared screen space together in 1993 film "Aaina".
While Jackie Shroff plays the role of Yashvardhan who is the head of a real estate empire involved in several crimes, vetern actor Rishi Kapoor plays the role of a police officer.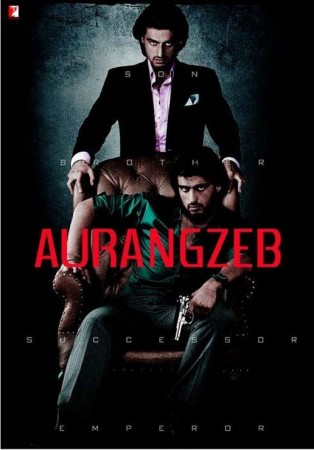 The trailer shows power packed-performance from Arjun Kappor and "Aiyyaa" fame Prithviraj.
"Aurangzeb" also marks the debut of Sashaa Agha, daughter of yesteryear actress and singer Salma Aagha, in Bollywood. Sashaa is seen in a glamorous avatar in the trailer of the movie.
Check out the trailer of "Aurangzeb":
The movie also features Swara Bhaskar, Sikander Kher, Deepti Naval, Tanvi Azmi and other stars.
Directed by debutant Atul Sabharwal and produced by Aditya Chopra, "Aurangzeb" will hit the screens on 17 May, 2013.
The movie was rumoured to be a remake of the 1978 film "Trishul" starring Sanjeev Kumar, Amitabh Bachchan, Shashi Kapoor, Hema Malini, Raakhee, Waheeda Rehman and Prem Chopra in lead roles.
"Aurangzeb" is Arjun Kapoor's second movie after "Ishaqzaade" which was also produced by Aditya Chopra.
The trailer of "Aurangzeb" has received mixed reactions so far. Here a a few comments by viewers:
SahraNorAbdi : Superbbbbbbbbbbbb Trailer all the best hole team loved
LaReineBleue: so both family's have a son who are identical in features? -.- i hope the movie coomes out good. arjun looked good and this prithvi raj dude is very good looking!
Ashish deshwal : A dissopiented Remake of sanjay dutt, firoj khan, kabir bedi, mukesh khanna starrer yalgar.. Cant be as good as yalgar
PsYcHoMAS4: Like this if you thought the movie was going to be a historic Mughal epic lol, trailer looks impressive Arjun showing that bollywood does have a future
FilmiCritic: This is just like the story of DON ..