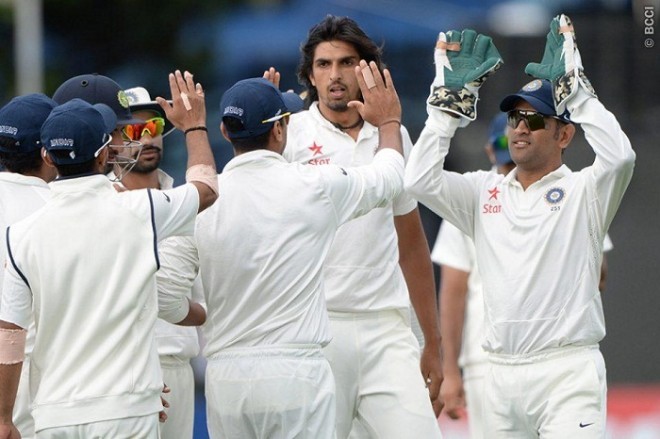 India's hopes of some practice before the much-awaited five -test series against England were dashed, as persistent rain washed out the second day of their three-day tour match against county side Leicestershire.
Showers that started the previous night continued unabated till Friday morning, ending any chance of play on the second day of the warm-up match against Leicestershire. While the umpires were supposed to carry out an inspection of the pitch at 2.30 pm, rain prevented them from doing so.
The BCCI tweeted about the rain and informed about the cancellation of the day's play.
So, there we go It's official. There will be no play today at Grace Road due to persistent drizzle. #EngvsInd

— BCCI (@BCCI) June 27, 2014
The covers remained on the wicket throughout the night as relentless precipitation dampened one of the largest outfields in cricket. Large puddles that formed across the covers and the ground were visible as the groundstaff were making every possible effort to clear the ground.
The persistent rain denied the bowlers some valuable match practice. The batsmen had yesterday made the most of their stint in the middle as the team put together 333 runs for the loss of four wickets. Shikar Dhawan (60), Gautam Gambhir (54) and Cheteshwar Pujara (57), all registered half-centuries while Rohit Sharma (43 batting)and Ajinkya Rahane (47 batting) closed in on the fifty run mark as well. As the players were forced indoors they spent their time taking part in indoor net sessions. The players trained under the watchful eye of Duncan Fletcher.
The Indian team would be hoping for the weather to improve, as they would want their bowlers to be provided with as much as bowling time out in the middle before the five test series is underway. The next tour game is against Derbyshire and is the last one before the series begins.
Where to Watch Live Scores:
The third day's action between Leicestershire and India is scheduled for 10:00 am local time (3:30 pm IST, 2:00 pm GMT and 4:30 am ET) start. Catch the live scores and ball-by-ball updates HERE, HERE or HERE. The action can also be listened live on BBC HERE, HERE or HERE.