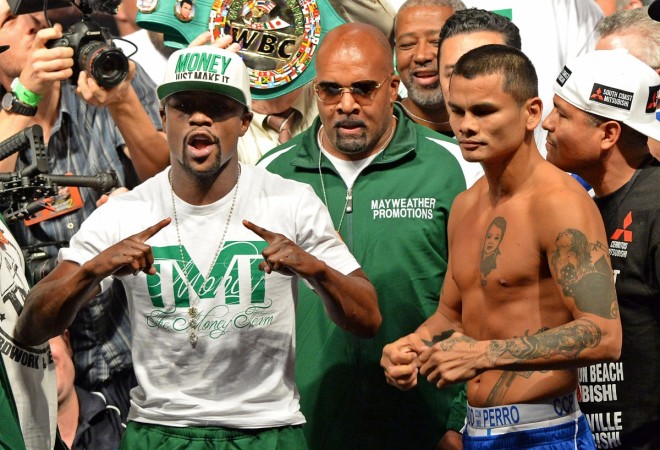 Floyd Mayweather just has three more fights to go, in his career as a boxer, and this might just give him the extra motivation he needs, to sweep Argentine Marcos Maidana aside.
However, this is by no means an easy task. Mayweather is now 37 years old, and as he himself admitted a couple of years back, his body is slowing down. Two years back, it was quite evident that Mayweather is ageing while he was fighting against Miguel Cotto of Puerto Rico.
However, the 37-year-old boxer has still been able to remain unbeaten with a 46-0 record. Of course, Mayweather has had to make a lot of adjustments to his game, due to his ageing body, in order to keep this record intact, however, it is increasingly becoming difficult to see him not losing any of his remaining three fights.
Mayweather was expected to win his last fight against Maidana pretty easily. However, the Argentine took up a game plan to not bow down against Mayweather. Maidana showed no respect to Mayweather in the fight, and the results were showing. There were certain rounds where Maidana was the clear-cut winner, as Mayweather struggled against him.
Boxing, however, is not about how you start, but how you finish the game, and Mayweather came back into the bout. This is one of the biggest assets that Mayweather has about his game. He could be losing a fight, but he would always have his thinking-cap on. He constantly looks for new ways to beat his opponent.
This is why it is very important for Maidana not to go into this bout with not just one game plan. He must have several game plans in mind, because as soon as one game plan starts working against Mayweather, he would instantly make tactical adjustments to confuse his opponent. This is one of the biggest reasons why he is considered to be such a great champion.
One thing that bothered Mayweather in the last fight was Maidana's punches were being hurled at him from all sorts of weird angles. This did cause the former some problems in the beginning, but as usual, he adjusted himself later on, to win the fight 116-112, 117-111, 114-114, via majority decision.
Perhaps this is why we have seen an addition to Mayweather's training personnel. Alex Ariza has been added to Mayweather's contingent as his "strength and conditioning coach". This is a clear indication that Mayweather is shifting his style to a more strength-based one, rather than a style that taxes his stamina. In light of these things, perhaps it would be better for Maidana to be quicker on his feet.
Where to Watch Live
The fight between Mayweather and Maidana, named "The Moment", is scheduled to start at 5.30 am IST (8pm ET, 1am BST). Readers can stream it live HERE or HERE. UK viewers can catch the action HERE or HERE. Australia viewers can watch the boxing match via live streaming HERE.