Times Square ball drop has been traditionally followed for over a 100 years in the USA. Over time it has gained an immense popularity not just in the America, but all across the world. thanks to the social media.
In about a few hours from now, thousands of revellers will come out in hordes converging to the New York City's iconic land mark Time Square to witness the globally acclaimed ball drop as the clock strikes 12am on 1 January 2015.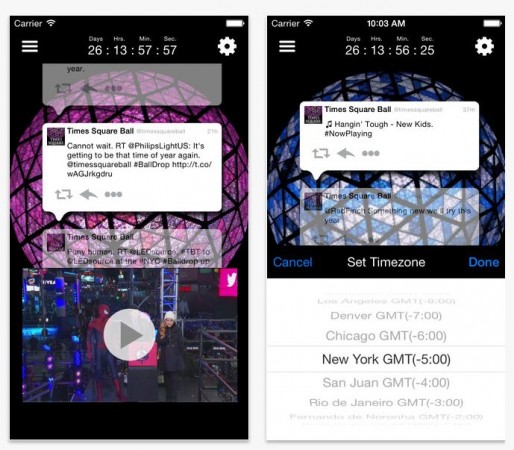 For those unlucky people who can't make it to the Manhattan mid-town on the New Year's Eve, show organisers have teamed up with an app developer, Countdown Entertainment to facilitate billions of fans across the world to watch the event live on their smartphones and tablets under the cozy comfort of their home.
A new version of 'Times Square Official New Year's Eve Ball' app has been released for free in Apple App store and Google Play store.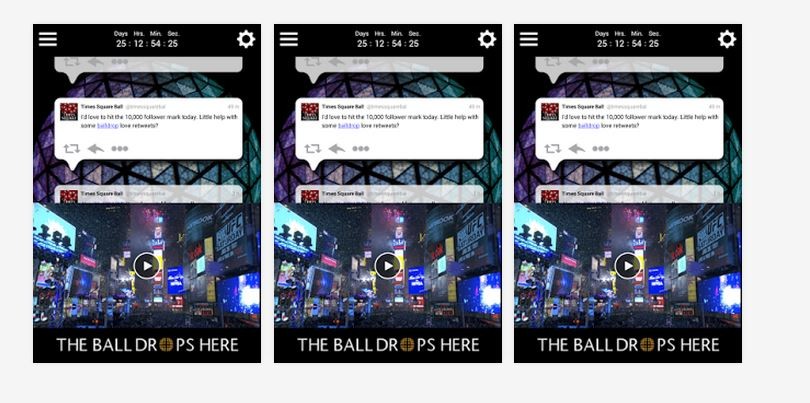 Salient Features of Times Square Official New Year's Eve Ball App include:
- Watch live streaming of exclusive events
- Get real-time updates via Twitter
- Customise countdown clock with your personal photo and time zone
System Requirements:
Platform
Apple devices
Android devices
OS version compatible
iOS v6.0 and above
v2.3.3 and above
Size
11.2 MB
6.6MB
Current App Version
v2.0.16
v3.0.1
Last updated
16 December 2014
17 December 2014
New features

Updated video streaming capability.
Compatibility with iPhone 6 and iPhone 6 plus

Simplified design, updated for 2014

Much better video stream compatibility

Better support for a nearly all 4.0- 4.4 devices
NEW twitter integration

Download link
HERE
HERE
The show organisers have also made arrangements to webcast the six-hour live event online free.
The Times Square 2015 Webcast will begin at 6pm EST on 31 December 2014 (4:30am IST, 1 January 2015) and ends at 12:15am on 1 January 2015 EST (10:45am IST, 1 January 2015). The show will be streamed live on multiple websites, which includes TimesSquareNYC.org, NewYearsEve.nyc,Ustream.tv/2015 and TimesSquareBall.net.
Set your clocks for the Times Square Ball Drop event live coverage:
| | | |
| --- | --- | --- |
| City | Time | Time-Zone |
| New York (USA. - New York) | Wednesday, 31 December 2014, 18:00:00 | EST |
| Los Angeles (USA. - California) | Wednesday, 31 December 2014, 15:00:00 | PST |
| Ottawa (Canada- Ontario) | Wednesday, 31 December 2014, 18:00:00 | EST |
| Rio de Janeiro (Brazil - Rio de Janeiro) | Wednesday, 31 December 2014, 21:00:00 | BRST |
| London (United Kingdom - England) | Wednesday, 31 December 2014, 23:00:00 | GMT |
| Paris (France) | Thursday, 1 January 2015, 00:00:00 | CET |
| Johannesburg (South Africa) | Thursday, 1 January 2015, 01:00:00 | SAST |
| Abu Dhabi (United Arab Emirates - Abu Dhabi) | Thursday, 1 January 2015, 03:00:00 | GST |
| Islamabad (Pakistan) | Thursday, 1 January 2015, 04:00:00 | PKT |
| New Delhi (India - Delhi) | Thursday, 1 January 2015, 04:30:00 | IST |
| Beijing (China - Beijing Municipality) | Thursday, 1 January 2015, 07:00:00 | CST |
| Hong Kong (Hong Kong) | Thursday, 1 January 2015, 07:00:00 | HKT |
| Seoul (South Korea) | Thursday, 1 January 2015, 08:00:00 | KST |
| Tokyo (Japan) | Thursday, 1 January 2015, 08:00:00 | JST |
| Canberra (Australia - Australian Capital Territory) | Thursday, 1 January 2015, 10:00:00 | AEDT |
Related