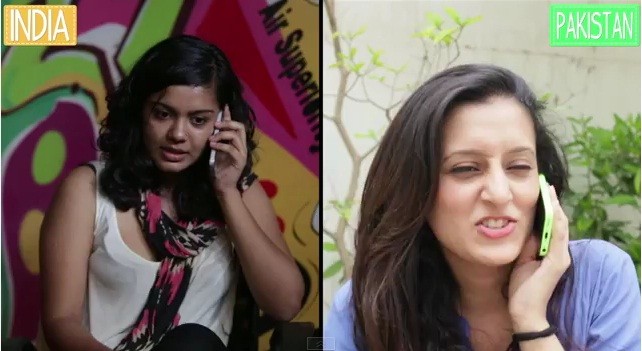 All India Bakchod (AIB), the brilliant comedy collective that created viral videos, like "A Tribute To Classic Indian Ads", "Congress vs BJP" and "Rape: It's Your Fault", has made yet another socially relevant video that caught the eye of millions of internet users.
On Independence Day, 15 August, All India Bakchod tried to get strangers from India and Pakistan to talk to each other over phones to try and understand why the people from the two countries should never talk to each other.
For the project, AIB collaborated with Humans of Karachi, a community that follows the concept of Humans of New York and shows Karachi and its people through the eyes of the photographer Khaula Jamil.
The video has been shared on Humans of Karachi FaceBook page with the message: "Thought I'd share one of my non-HOK projects on HOK today since its very relevant. The guys at All India Bakchod got in touch a few days ago wanting to do a collaboration for Independence day- they asked, what if we got an Indian and a Pakistani to wish each other Happy Independence Day?"
The video begins with a question to Indians: "What comes to mind when you hear the word, 'Pakistan'?"
Most people had great responses with one saying, "great skin", another, "Malala", "Coke Studio", "great food", "Ali Zafar", "hot women" and "beautiful eyes", while a couple said, "enemies?", "terrorist attack" and "itna jihad kyun hai wahan pe?" (Why are there so many Jihads there?). However, almost all of them were unanimously reminded of cricket when they heard Pakistan.
The same was asked to their Pakistani counterparts about India and they responded with, "population", "diversity", "family", "celebrities", "mittai" (sweets), "dance", "brotherhood", "beautiful", "Gandhi", and so on. A few were reminded of "enemies", "war", "the Wagah border" and the difficulty of getting in, when they heard the word India. They were all in agreement when it came to Bollywood, though.
The participants were then asked to talk to each other over phone. They all began by wishing each other a Happy Independence Day.
They found many topics to bond over, especially Bollywood. While two women were united in their dislike for Salman Khan, two men shared their embarrassment in knowing every song of Yo Yo Honey Singh, since the very first one. One man divulged a deep secret on phone that he is in fact a diehard fan of Shah Rukh Khan, although he wouldn't admit it in public. Another, a diehard fan of director Anurag Kashyap from Pakistan, asked his Indian friend if she knew where he lived.
Two football fanatics set rivalries aside as the Chelsea follower congratulated Arsenal winning the community shield. Cricket, however, is a touchy topic for both the countries and was the reason for some friendly banter as a few raised voice.
The topic them turned to love, and a Pakistani girl told her Indian friend that women in the country are better-looking than men. Some even shared their relationship status with each other.
One of the Indian guys even befriended his phone buddy on FaceBook as they were talking and did not balk from teasing his playboy-like profile picture: "quite the player you are!"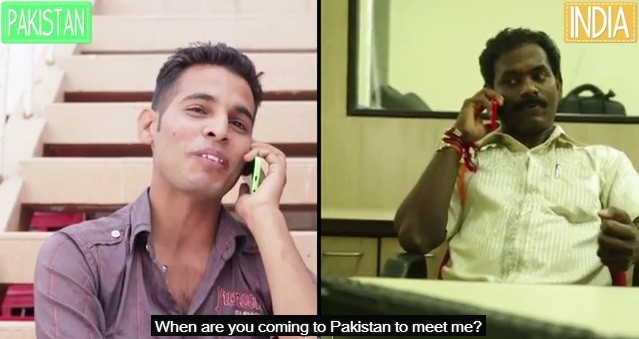 When one man asked, "Aap Pakistan kab aaoge humse milne?" (When will you come to Pakistan to meet me?. He was told to just send the VISA and that the Indian would leave for Pakistan the very next day. Another pair made plans to meet up when the Pakistani man visits India the next time.
After everyone said byes to each other, this message appeared on screen: "Happy Independence Day! Dear RAW and ISI, Can you please stop tapping our phones.. please :)"
The video ended with every participant expressing their happiness in being a part of the venture and how their pre-conceived notions have been shattered with memories of a beautiful experience.
As Jamil says, "May we get the visa issue resolved so people from both sides can visit freely and get to know each other face to face."
The video currently has over 165,187 hits and is one of the trending topics on Twitter:
Overwhelming response to our latest sketch. Thank you muchly for all the kind words. pic.twitter.com/TZ4SjhhcYQ

— All India Bakchod (@AllIndiaBakchod) August 15, 2014
"A small YouTube channel did what two countries could not do for a long time. Thanks #aib for When India spoke to Pakistan. #India68," posted Alok.
"Could there be a better #HappyIndependenceDay gift, AIB: When India Spoke to Pakistan: http://youtu.be/FwC1cSIsl8A," asks an elated Abbas Tiki.
"Thank you AIB. Miss my cousins in Karachi. I have a lump in my throat and a smile on my lips. @thetanmay http://www.letztrend.com/this-is-what-happened-when-india-spoke-to-pakistan-on-i-day/ ...," said Nuzhat.