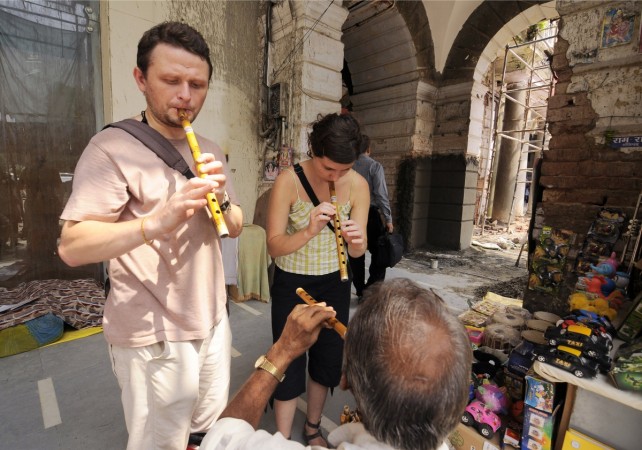 When was the last time you heard a foreigner say something other than 'Namaste' in a regional Indian language? Well, this traveler from New Zealand decided to surprise all with his Hindi. The man, who currently lives in New Delhi posted a video on his YouTube channel that has the social media buzzing for almost two weeks.
YouTuber Karl Rock uploaded a video titled 'Foreigner Surprising Indians with Hindi (Warning Smiles Galore)' on February 1, 2018, wherein as the name suggests, he speaks in Hindi and Haryanvi in the city of Gurgaon, Haryana.
"I really love the reaction I get from Indians when I speak a little bit of Hindi to them... It's the last thing they expect from a foreigner," Karl said at the beginning of the video.
"My girlfriend teaches me a lot of Hindi and Haryanvi as do my Indian friends and YouTube," NDTV quoted him as saying. "But mainly I'm self-taught because I believe if I'm staying here the best way to integrate into society is through the local language. I want to be able to chat with the phalwala, dudhwala, and everybody I met during my day."
The video shows Karl walking up to local residents and striking a conversation in Hindi and Haryanvi. In the viral video, he is seen conversing in the local languages with rickshaw drivers and children playing on the street of Gurgaon.
The video has received wide acclaim for the unique approach taken by Karl to communicate with the local people. With over 7 lakh views on the video, the YouTuber has received a lot of praise in the comment section as well.
One of the comments on YouTube read: "Just came across this. This video was in my recommendations. Literally, loved the way you were speaking and the accent was not at all different from us. By the way, do you do meet and greet? Would definitely love to meet! From a Haryanvi friend!"
Karl, the founder of the blog 'India Survival Guide' often writes about his travel experiences in India. Furthermore, the New Zealander has over 14,000 subscribers on his YouTube channel and has expanded his portfolio from YouTube channel to website and a book.
When Karl was asked about his love for India, he told NDTV "When I was 18, I fell in love with Indian food. It began from there. I kept growing more and more interested in India until I finally visited in 2013 and fell in love with India. My stomach was definitely Indian in a past life. When I first landed in India, a local friend met me at the airport. That week he taught me how to survive as a foreigner in India."