Temperature Of Love, the SBS romantic comedy drama, will be back with episodes 11 and 12 this Tuesday, October 3, at 10 PM KST. These episodes could feature a secret team-up between Park Jung Woo and Ji Hong Ah.
The young businessman and the aspiring screenwriter are highly ambitious. Both of them are currently looking forward to a break up between Lee Hyun Soo and On Jung Seon. So, they may work together for it in the upcoming episodes.
The promo features a conversation between Park Jung Woo and Ji Hong Ah. "I don't like Hyun Soo. I want to go up even if it means crushing my friend. I was hoping you do notice my ambition," the screenwriter tells the businessman in the footage.
Also read While You Were Sleeping episodes 5, 6: Preview, spoilers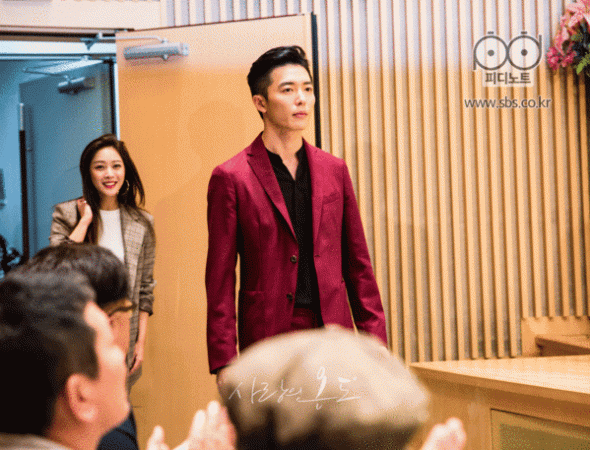 Elsewhere, On Jung Seon makes it clear to Lee Hyun Soo that he is no more interested in her. "I'm sorry, don't wait for me. I lost you once, so it won't be easy to start this time," he says.
The video then shows Park Jung Woo encouraging the chef to participate in as many cooking shows as possible to promote the restaurant. "Have you heard of The Menu Of My Life? It's a show from SBC. It could be a huge opportunity if they chose your dish," he informs the chef.
The promo also shows the businessman asking the female lead about her lover. It then hints at a rivalry between Lee Hyun Soo and her best friend. When the production team asks the screenwriter to find a new writer to help her, the first person that comes to her mind is Ji Hong Ah. But she pretends to be too busy to help the female lead, as she says, "I was selected for a series at HNC."
Click here to watch Temperature Of Love episodes 11 and 12 at 10 pm KST on SBS. The mini-series will also be available online on video-streaming sites Viki and DramaFever.