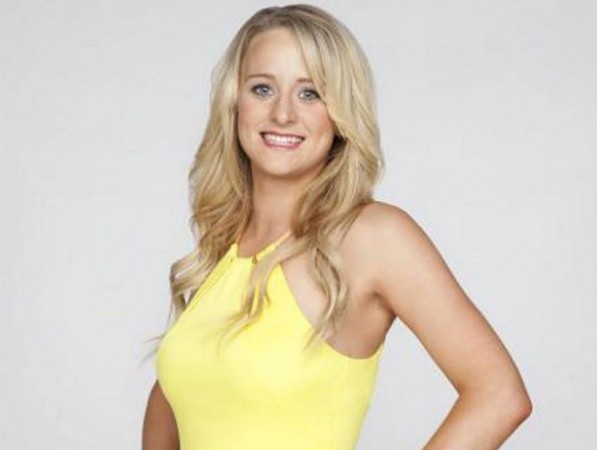 Leah Messer's emotions will get the better of her in the latest instalment of "Teen Mom 2." In Season 7 episode 11 titled "Turn the Page," Corey Simms' ex and Miranda, his current partner, will have an honest conversation about their kids.
In the upcoming episode of the MTV reality series, Leah will find herself perplexed about Miranda's co-parenting skills. In her emotional frame of mind, the TV personality will confide in her friend and try to work out a solution with Corey and Miranda. However, a text message will lift the fog of doubt.
The promo for the upcoming episode includes a scene in which Leah receives a message from her ex-husband's wife, Miranda. The content of the message confuses Leah to a great degree, partly because Miranda highlights the love she has for Corey and Leah's daughter Ali. Furthermore, Miranda urges Leah to look at things from a fresh perspective.
In last week's episode titled "Choose Your Battles," Ali, who suffers from Titin muscular dystrophy, confessed on camera that her step-mom Miranda didn't offer help when she needed it. She also said her step-brother Remy is given all the attention.
In the promo for Season 7 episode 11, Miranda's text reads: "It really bothers me that you are claiming you have some sort of sneaky video of me because I have absolutely nothing to hide."
The synopsis (via TV Guide) for the upcoming episode indicates that Leah and Miranda will finally make up after fighting for several weeks. Perhaps the latter's text message helps clear issues between the two.
Elsewhere in the episode, Chelsea Houska's daughter Aubree will confront her dad Adam Lind over his absence on Father-Daughter Day at her school. Unfortunately and perhaps characteristically, Adam says in the promo he had to prepare for a weightlighting championship at his gym and hence missed his daughter's special day. Ironically, Aubree is present to watch her dad compete and win.
"Teen Mom 2" Season 7 episode 11 airs at 10 p.m. EST on Monday, May 30 on MTV. You can live-stream the episode via MTV's website.