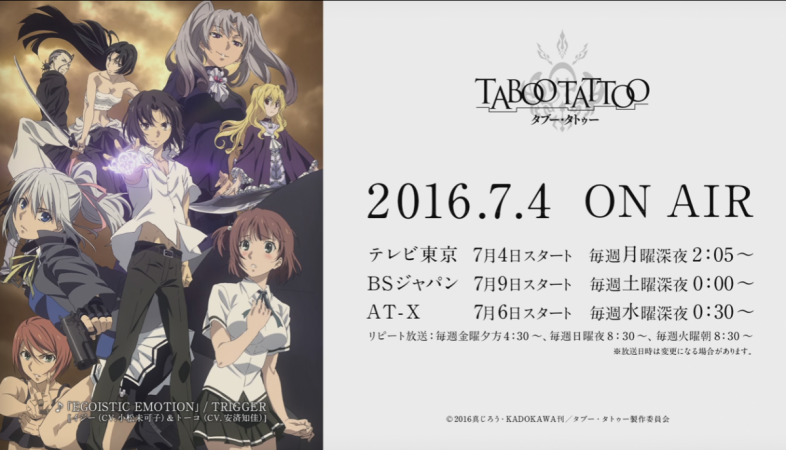 An anime adaptation of Shinjiro's hit seinen manga series "Taboo Tattoo" has been on the cards for quite some time now. After being postponed for over a year, the power-packed series will finally make its television debut on July 5, 2016.
Produced by the renowned J.C.Staff studio of "Zero No Tsukaima" and "Toradora!" fame, "Taboo Tattoo" is directed by Takashi Watanabe, who is known for directing hit anime series like "Freezing" and "Ikki Tousen." Renowned video game music composer Shinji Hosoe ("No Game No Life" and "Super Dragonball Z") will compose music for the series.
Makoto Furukawa, the voice behind Saitama's character in "One Punch Man," will voice the lead character of Masayoshi Akatsuka. He will be accompanied by Mikako Komatsu (Sayo of "Akame Ga Kill" and Mutsumi of "Noragami"), Chika Anzai (Mina Carolina of "Attack On Titan") and a few other well-known Japanese voice artistes.
If you have not read the manga before and are a new viewer of the series, do not get fooled by the childish name of the anime. It is as action-packed as it can get. "Taboo Tattoo" follows the life of Justice Akatsuka aka Seigi as he fights crime by using supernatural powers he gets from a tattoo imprinted on his palm. The official synopsis for the series on Anime News Network is as follows:
Justice Akazuka (nickname Seigi) is a young man who is good at martial arts. Seigi rescues a homeless old man on the street one day from some thug, and the man gives Seigi an object that imprints a tattoo on his palm. However, it is not an ordinary tattoo, but a special weapon that gives Seigi supernatural powers such as warping space-time. Seigi then meets a female American agent named Easy, whose duty is to recover the tattoos. Seigi decides to help her and gets wrapped up in a cross-national conspiracy.
"Taboo Tattoo" will premiere on TV Tokyo, AT-X and BS Japan on July 5 from 2:05 a.m. It will also be available for streaming on Crunchyroll.