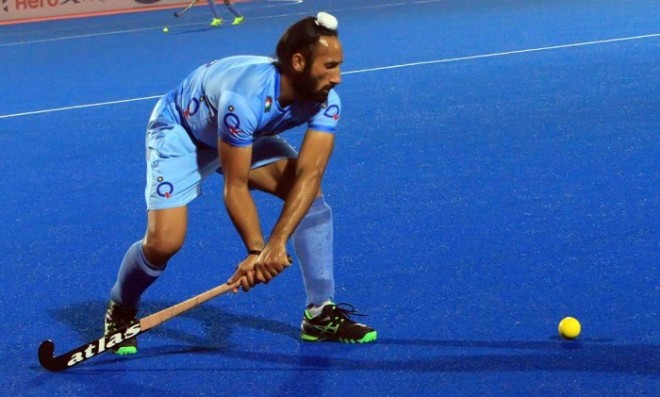 India might have won two matches, against Japan and Canada, in the Sultan Azlan Shah Cup in Ipoh, Malaysia, but their performance have been below par. India are capable of playing much better and need to come with their A game when they meet arch-rival Pakistan in an exciting encounter Tuesday.
India have come without some of their senior stars, providing rest to them, and Coach Roelant Oltmans has provided chance for some of the youngsters to shine. It is going to be a litmus test to these young guns aiming to find a place in India's 2016 Rio Olympics squad.
Drag-flicker Harmanpreet Singh, who has been sensational converting penalty corners, is expected to have booked his place, but the defender will want to shine in what is said to be the mother of all matches.
Though the youngsters have a key role to play during the fixture, senior players like SV Sunil, Ramandeep Singh and Pupinder Pal Singh must excel in the high-voltage match. They need to bring all their experience into play, and churn out favourable result.
These players have played a number of such crunch matches, and are expected to perform once again.
India have been decent in the midfield area, but their performance in the final third has been found wanting. They seem to rely too much on getting those penalty corners, but should aim for securing a field goal as well.
India's defence have also not stood firm in the Sultan Azlan Shah tournament, and have conceded a number of silly errors, which have provided easy chances for their opponents. If Pakistan play a fast game, Indian defenders will have a tough time.
Pakistan, which failed to qualify for the Rio Olympics, will want to show that they are still a force to reckon with by defeating India in the competition. Pakistan are on a rebuilding phase and their players will be eager to produce a positive result against India.
Pakistan might have started well against Canada, defeating them 3-1, but their performance in their last two games have been less than satisfactory. They were up against two of the strongest teams – New Zealand and Australia – in the competition, and lost 5-3 and 4-0, respectively.
They might be hurt with their disappointing results, and will be keen to get back with a victory against India. Pakistan coach Khwaja Junaid wants to follow the game plan against India.
"The match against India will be a turnover game. The team that manages to defend the counter-attacks better will have an edge. We are now trying to rebuild our squad. What is important is that we follow our game-strategy, play in a structure and show unity in the field," Press Trust of India quoted Junaid as saying.
With Monday being a rest day in the competition, both India and Pakistan players might have had enjoyed decent rest. They are expected to be fresh for the mega match.
Where to watch live
Sultan Azlan Shah Cup match between India vs Pakistan is scheduled for 6:05 p.m. local time (3:35 p.m IST) start. Viewers in India can watch India vs Pakistan live on Star Sports 1/HD and Star Sports 3/HD, with live streaming on starsports.com.