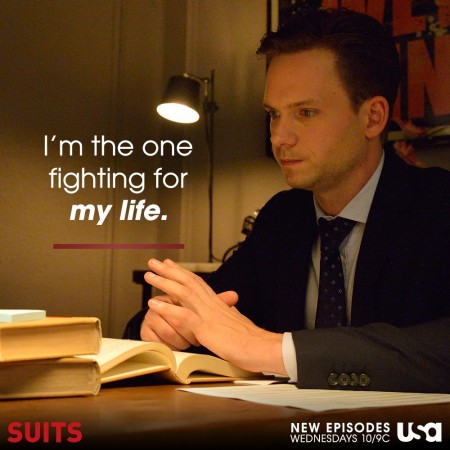 Following the events at Mike's (Patrick J Adams) trial in "Suits" Season 5 Episode 14, Harvey (Gabriel Macht) told his protégé the only way for him to walk out unscathed is for Mike to represent himself. Mike had a small victory on the first day of the trial, but things are going to get even more intense in "Tick Tock", considering Gibbs (Leslie Hope) may have gotten in Louis' (Rick Hoffman) head.
Towards the end of "Self Defense", Gibbs had approached Louis, despite his restraining order against her, and offered to give him immunity if he turned against his partners. As fans will remember, Louis had blackmailed Jessica (Gina Torres) to get his name on the firm's wall.
He discovered Jessica and Harvey were protecting Mike and he hadn't gone to Harvard. He used that information to get what he wanted, and now that Gibbs knows it, she is planning on using it against him.
Also Read: Tina Desai teases 'Sense8' Season 2, Wolfgang and Kala's 'electric' love story
She further persuaded Louis by telling him he would have to kiss goodbye all the material things in life if he didn't take her offer. "They're gonna lose this trial. You know it, I know it and they know it. You have one last chance to save yourself," she had warned him.
It looked like Louis fell for Gibbs' plan, considering he took her business card. However, it would make no sense for Louis to give up on his firm after everything he has done for Mike. Moreover, if Mike were to be found guilty, it would put the lives of everyone at Pearson Specter Litt in jeopardy, and everyone knows Louis would never do anything to harm Donna (Sarah Rafferty).
The most possible outcome of Gibb's threat is Louis would help Harvey and Mike gather evidence against her. He could use her business card as evidence to prove that despite the restraining order, the opposition lawyer had approached him, or for breaking the injunction.
Meanwhile, Mike will do everything in his power to prove to the jury he is a lawyer, and a great one at that. He will be seen representing himself in court from the upcoming episode.
Watch Season 5 Episode 15 of "Suits" at 10 p.m. (EST) Wednesday, Feb. 24, 2016. You can also live-stream "Tick Tock" via USA TV Live and Hulu.