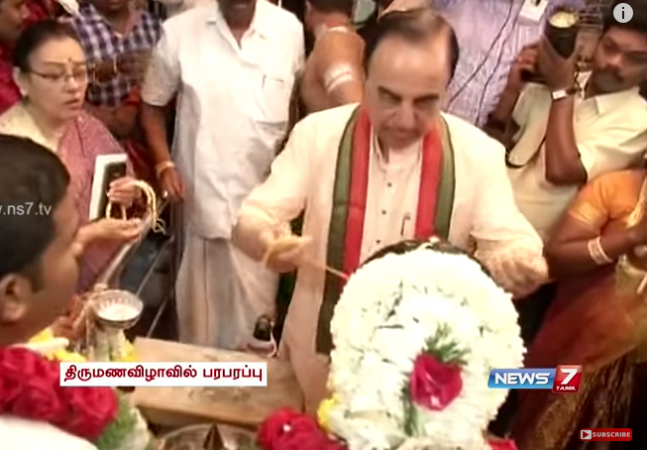 A hilarious video showing BJP leader Dr Subramanian Swamy almost tying the knot himself while attending a wedding ceremony in Tirunelveli, Tamil Nadu has gone viral on social media.
Swamy, 75, who was asked to bless the couple and hand over the Mangalsutra to the groom, almost put it on the bride's neck when IAS officer VS Chandralekha stopped him.
Swamy has become the butt of jokes of people for his absent-mindedness as the incident's video soon went viral on social media.
Dr.Swamy attended wedding of Veni's son.Veni state general secretary VHS TN. pic.twitter.com/Cs9j9Qo0OH

— chandralekha V.S (@vsclekha) May 20, 2015
Siddhartha Unni
#SubramanianSwamy Wow! nearly got married again!
Niveda Manohar
Brighten up your day with this video of #SubramanianSwamy almost pulling off a #KokkiKumar
Preeti Sharma
Wonder what @Swamy39 smokes?
Dhanya Rajendran
I like Swamy's laugh after the blooper!
Rupa Subramanya
LOL. @Swamy39 almost got married again.Woman's expression whose timely intervention saved the day is priceless.
The video, posted on YouTube by News7 Tamil on Tuesday, 19 May, has since been watched by thousands of viewers on various social media platforms.
Swamy got married to Roxna Swamy, also a Supreme Court lawyer like her spouse, in 1966. The couple are blessed with two daughters.
Watch the video below: