Stanislas Wawrinka was not a happy camper after his nerve-wracking loss to Roger Federer in the semifinals of the ATP World Tour Finals in London.
The Australian Open champion reportedly had a confrontation with his good friend and Swiss compatriot Roger Federer in the locker room after the match, with Wawrinka unhappy about the fact that he was reportedly heckled by Federer's wife Mirka.
Mirka is usually always present in Federer's matches, especially during the big tournaments, and with the match getting tense, the Swiss great's wife tried to throw Wawrinka off his game by calling him a "cry baby", according to widespread reports.
Video has emerged of Wawrinka stopping and pointing at someone, clearly unhappy with the situation, with the player then also having a conversation with the chair umpire.
Wawrinka eventually went on to lose the semifinal in three sets 4-6, 7-5, 7-6 (6), after failing to capitalise on four match points, with Federer, in an anti-climax of the highest order, pulling out of the final against world number one Novak Djokovic, citing a back injury.
"I think I got lucky," Federer said last Saturday after his win over Wawrinka. "Stan played better from the baseline and that usually does the job on this court. But I kept fighting. It's tough but I'm thrilled to be in another final in London."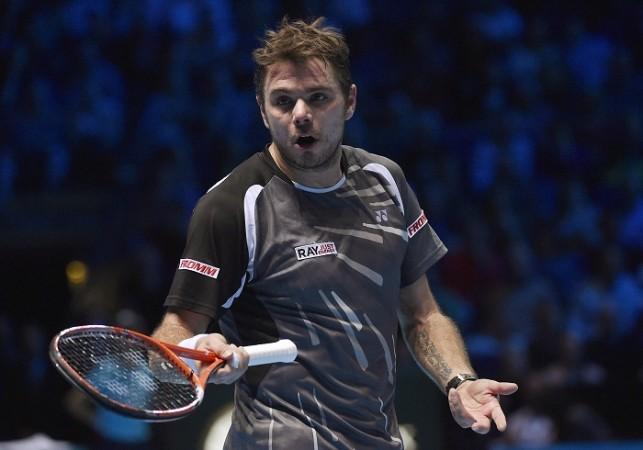 The main worry coming out of this "tiff" is that Federer and Wawrinka will now team up for Switzerland in the Davis Cup final against France.
The Davis Cup title is one of the very few crowns missing from Federer's bloated silverware cabinet, and the Swiss master will be desperate to add that Davis Cup title to his kitty with victory in the final.
Pictures emerged of Federer and Wawrinka showing little effects of their problems at the ATP World Tour Finals, with the duo posing for pictures ahead of what promises to be a cracker of a Davis Cup final, which begins on Friday.
It's great being with the boys again .. And #captain #lüthi pic.twitter.com/iMWJUVKd0T

— Roger Federer (@rogerfederer) November 17, 2014
Federer and Wawrinka also played down the "fight" insisting there were no hard feelings after the "heat of the moment" verbals.
"We had a conversation after the match. Everything's totally relaxed about the situation," said Federer. "We're old enough. We have Severin [Luthi] as a coach and Davis Cup captain and friend who was there, as well.
"I just wanted to see if there was any hard feelings because it was probably one of the loudest moments of the match, around 5-4, 5-5 score. Clearly a lot of noise.
"Yeah, like I said, there's no hard feelings whatsoever. We're having a good time here. We are friends, not enemies. But obviously it was maybe one of those moments, heat-of-the-moment situation."
Wawrinka added: "I think first thing, we had no problem together. We talked about that already straight after the match. Not only about that, about many things. We know how to deal when we have a small thing like that.
"There's not much to say because it's become a big deal because of the press, because of you. But for us it's nothing really."