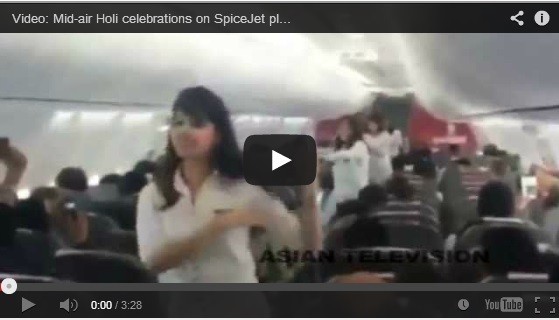 On Wednesday, SpiceJet was issued a show-cause notice by the country's aviation regulatory body, seeking clarification on why its licence should not be suspended for what has been termed as a violation of safety rules, during its special Holi flights.
Prabhat Kumar, the director general of civil aviation, summoned SpiceJet officials to explain why the airline had allowed the cabin crew onboard its flights to perform a dance routine as a part of the Holi celebrations.
As soon as the news appeared, videos, in which the crew members are seen dancing onboard the airplane, have gone viral. Here is one of the videos:
Here is a slightly longer video, circulating online.
"We have issued a show-cause notice to them (spice jet today asking why their licence should not be suspended, " Live Mint quoted a senior official of the Directorate General of Civil Aviation (DGCA) as saying.
"They conducted eight flights on which there was dance in the aisle area harming passenger safety. The flights were reduced to a mockery, the centre of gravity of the aircraft could have been impacted," the official said. "Mobiles were used to capture the show in violation of our rules. The dance could have provoked passengers into unruly behavior. The captain came out and was dancing outside the cockpit."
SpiceJet, known as the second largest low-fare airlines, now has to reply to the notice within a fortnight, after which a decision will be taken on the whether or not to cancel its license.
DGCA has suspended two SpiceJet pilots, including a captain, pending investigation. The airliner, which has 57 planes and runs 350 daily flights, ran the 'special Holi' flights on 17 March.