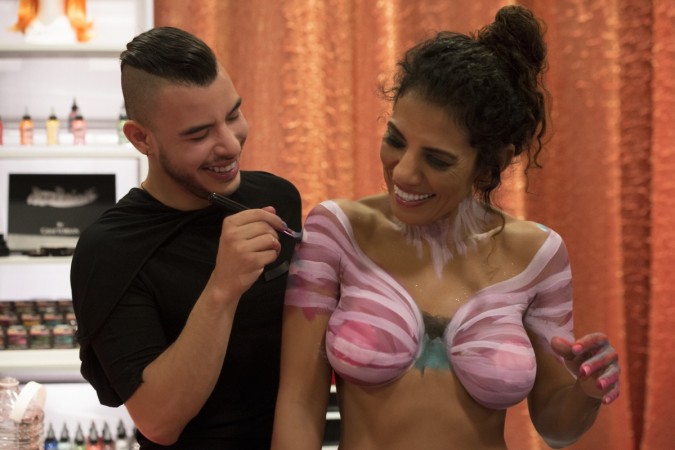 Season 3 of Game Show Network's "Skin Wars" is premiering on Wednesday, April 20. As many as 12 contestants will compete neck and neck for the cash prize of $100,000, an all-expenses paid trip for two to the prestigious World Body Painting Festival in Austria and a custom-made stencil line from Bad Ass Stencils with the winner's name on it.
"The Librarians" star Rebecca Romijn will return as the host for TV's first-ever body painting competition show. Meanwhile, RuPaul Charles, body painting icons Craig Tracy and Robin Slonina will judge the 12 contestants throughout Season 3.
This season will be as dramatic, if not more dramatic, as the first two seasons. The new contestants also exhibit equally high levels of talent. This season, the judges are expecting the absolute best from the contestants and nothing less, according to the promo for the season.
The show has given the art of body painting much-needed promotion. In fact, when host Romijn visited Hoda Kotb and Kathie Lee, she took one of the live artworks from "Skin Wars" along with her. They could not believe that the model was actually covered in paint and not clothes.
Believe it or not, this is all paint! pic.twitter.com/JLABsTXaRw

— Kathie Lee and Hoda (@klgandhoda) April 19, 2016
The names of the twelve contestants from this season are Shelley, Rick, Michael, Luis, Kyera, Otto, Jessica, Jermaze, Hans, Brittney, Alison and Tiffany. You can see all of them in the promo video below:
Don't forget to check out Season 3 episode 1 of "Skin Wars" at 10 p.m. (EST) on Wednesday, April 20.