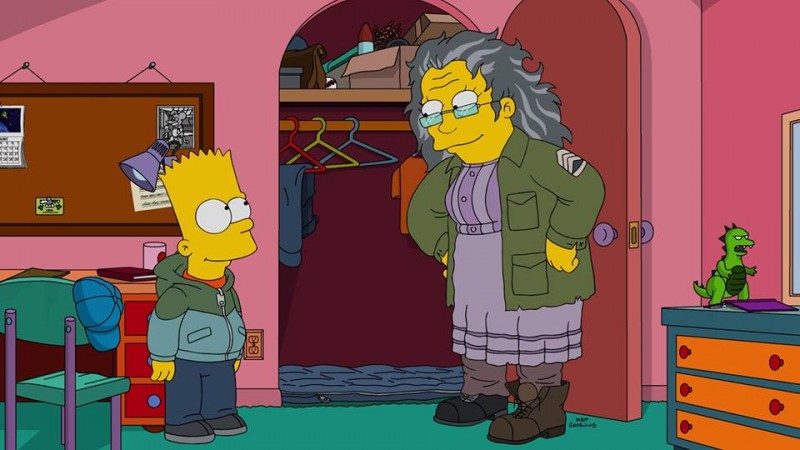 In the upcoming episode titled "Gal of Constant Sorrow" of "The Simpsons" Season 27, Bart will provide shelter to a homeless woman while Homer will accidentally kill the family cat.
CLICK HERE to watch why Bart takes in the mysterious woman and how Homer kills the cat.
According to the synopsis of the episode: "Bart takes in a homeless woman who turns out to be a talented folk singer, while Homer accidentally traps the cat in the walls of the house."
Bart finds the woman on the street near his home and brings her in. However, much to his delight, soon he realises the woman is a celebrity folk singer, and plans to make money through her.
Elsewhere, Homer mistakenly traps his cat in a room and forgets about it. Afterwards, it seems the cat, unable to get out of the room, suffocates and dies.
Whether Bart fulfils his dream of becoming rich will become apparent only when the episode airs.
In the previous episode titled, "Love Is in the N2-O2-Ar-CO2-Ne-He-CH4," lonely Professor Frink used science to turn himself into a man whom women find attractive.
However, overwhelmed by the attention, he invented an algorithm to perfectly pair the lonely men and women of Springfield, realising scientific exploration is his true love.
Elsewhere, Smithers reminded Mr Burns about Valentine's Day and tried to convince him to let the employees leave early to be with their loved ones. Mr Burns refused, but Smithers convinced him to host a Sweethearts Dance.
While enjoying the party with Marge, Homer got a phone call from Grampa Abraham Simpson who told him he was alone and scared that the family cat, who can smell death, was going to kill him.
Homer and Marge decided to visit Grampa, spending the rest of Valentine's Day with him. At the Retirement Castle, a nurse gave a pill to the elders, making them hallucinate and start dancing with the ghosts of late loved ones, including Mona Simpson.
Marge thought it was not fair to do that to the old folks and decided to do something about it.