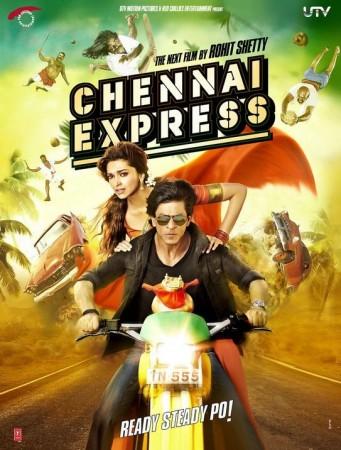 Makers of Shah Rukh Khan's comedy-masala flick "Chennai Express" have released a song titled "Titli" which has the actor cosying up with Deepika Padukone in the lovely ballad.
The song scored by Vishal Dadlani and Shekhar Ravjiani has been shot amidst green locales and flowers spread in warm hues.
Deepika has carried off the southern bride look well, while Shah Rukh is seen sporting the traditional South Indian white dhoti with élan.
The feeble toned refreshing track crooned by Chinmayi Sripada and Gopi Sunder has a brief shot of the traditional 'Bharat Natyam' dance sequence. Deepika moving swiftly to the classical steps with dancers in her background would make one remind of Shah Rukh starrer "Dil Se", where Priety Zinta carried off a similar act in the song "Jiya Jale".
The colourful video set in the hill tops has several Katahakali dancers and SRK is seen with his trademark 'open-arms' gesture.
The film which is set to hit screens on 8 August. Its makers had recently released the films' first track '1234 Get on the dance floor'. The groovy track featuring southern sensation Priyamani had Shah Rukh Khan dancing to 'dapaankoothu', a local dance form.
Meanwhile, Shah Rukh is said to have roped in rapper Honey Singh to compose a track for the rom-com.
The news was confirmed by the singer, who said the track was going to be tribute to Southern superstar Rajnikanth.
A website reported the singer saying, "I was very very surprised and happy to hear from Shah Rukh bhai. He said he wanted me to do a particular song for 'Chennai Express' and told me to do what I could. I wrote and composed the song while I was in Mauritius. Both Shah Rukh bhai and I are huge Rajinikanth fans. This number is our tribute to him."
However, reports are that the Vishal-Shekhar duo was unhappy with the development.
To which Honey Singh replied, "What can I do? If Shah Rukh bhai asked me to do a song, I couldn't refuse. I am just doing my job to the best of my abilities. I can tell you this much. When the song comes out it will be a craze among not just Shah Rukh and my fans, but also among Rajini Sir's fans."
Watch the 'Titli' video below: