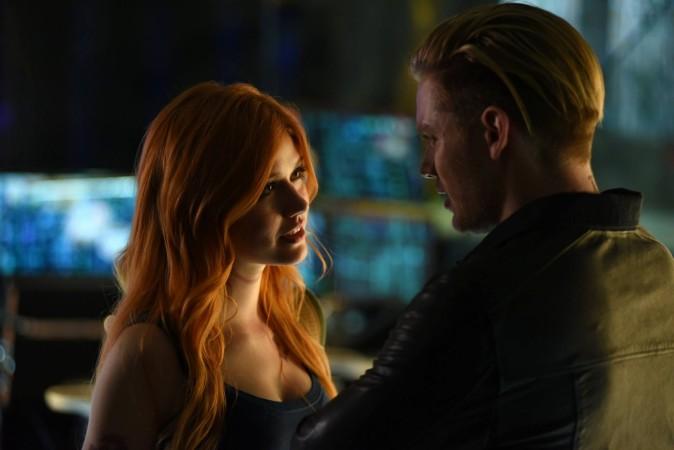 Clary Fray (Katherine McNamara) finally has an idea about where her mother Jocelyn (Maxim Roy) might have hidden the Mortal Cup. However, her quest to find it will not be easy and she might even end up harming those closest to her. Her relationship with Jace (Dominic Sherwood) and best friend Simon (Alberto Rosende) will be tested in Season 1 Episode 7 titled "Major Arcana."
In last week's episode, Clary's conversation with Luke (Isaiah Mustafa) proved to be revelatory. He offered her a peek into her past and the shadowhunter realised Luke's relationship with her mom, Jocelyn. Although Clary was only told about the importance of the Mortal Cup and Valentine's (Alan Van Sprang) plans with it, Luke did not provide her any clues about the Cup's whereabouts. This will be her journey to take and it appears that it has already begun. At the end of the previous episode, Clary found her first clue regarding the Mortal Cup's location.
In the latest instalment of Freeform's TV series, "Shadowhunters," Clary and Jace will look for any sign or clue that will lead them to the Cup. During their brief outing, the parabatai and Clary will become much closer than before.
In the promo clip for Season 1 Episode 7, Jace finally exhibits his feelings for Clary. He says, "Clary, I'll die before I let anything happen to you." At this point, she stabs him. Jace looks shocked, but we suspect that Clary isn't responsible for it. The parabatai could have been stabbed by a shape shifter.
Elsewhere in the episode, Simon finds out that he is a vampire. This revelation surprises and shocks him, and in a moment of panic, he breaks his mirror when he sees his changed appearance.
What will Simon do next? This remains to be seen.
"Shadowhunters" Season 1 Episode 7's synopsis released via TV Guide reads:
Clary and the team race to obtain the Mortal Cup before anyone else gets to it after they piece together the clues of its location. Meanwhile, Simon fears he's turning into a vampire as his symptoms become increasingly worse.
"Shadowhunters" Season 1 Episode 7 airs on Tuesday, Feb. 23, at 9 p.m. on Freeform. You can live stream the episode via Freeform's website.