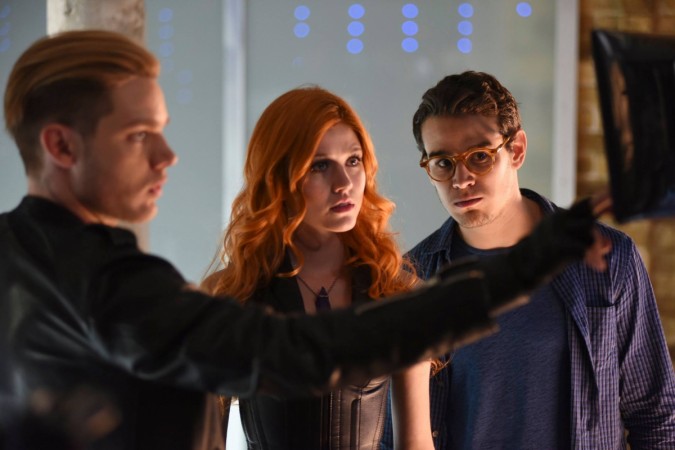 Clary, the teenager on "Shadowhunters", has been on a quest ever since the TV series premiered. Her ambition is to save her kidnapped mother and hopes that the handsome and attractive shadowhunter, Jace, falls in love with her. Whilst it already happens on the TV show, Clary Fray (Katherine McNamara) is nowhere close to accomplishing her first and foremost task: finding her mother.
In the previous episode titled "Dead Man's Party", Clary's best friend Simon (Alberto Rosende) is in the vampire territory at Hotel DuMort. In his encounter with the head of the vampires, Camille (Kaitlyn Leeb), he says that Clary's memories have been erased and Camille bemoans that Bane is responsible for it. He later drinks a glass of Bloody Mary and becomes a vampire. This will be explored further in the upcoming instalment, Season 1 Episode 4.
In the latest episode, Clary's best friend tells her that Bane has erased all her memories. At this point, it becomes clear to Clary that she must find Bane, the High Warlock of Brooklyn. According to the synopsis, Clary and the rest of the shadowhunters throw a party to lure Bane. Their plan works, but the warlock tells Clary that he fed her memories to a Memory Demon.
While Clary considers summoning the Memory Demon, Jace (Dominic Sherwood) informs her that the demon is very powerful and dangerous. The promo for episode 4 indicates that the shadowhunters will put their lives at risk and encounter the demon. However, it remains to be seen if Clary is successful in her mission. After all, her best friend Simon did look at her cortoid artery with blood lust at the end of Episode 3. Will he attack Clary?
Season 1 Episode 4's synopsis released via TV Guide reads:
The Shadowhunters discover that Magnus Bane, the High Warlock of Brooklyn, may know how to access Clary's memories, so they attempt to lure him out by throwing a party. Meanwhile, Simon doesn't seem like himself after an encounter with a Downworlder.
"Shadowhunters" Season 1 Episode 4 titled "Raising Hell" airs on Tuesday, 2 February, at 9pm on Freeform (previously known as ABC Family). You can live stream the episode here.
Watch the promo here: